VEHICLES
Click the + symbol on each photo for a brief description of the signage shown.
If you don't see a photo of the type of signage you need, give us a call or send an email. Chances are pretty good that we have made something similar or we can come up with a custom solution for you.
 
Partial Wrap
Box Truck Wrap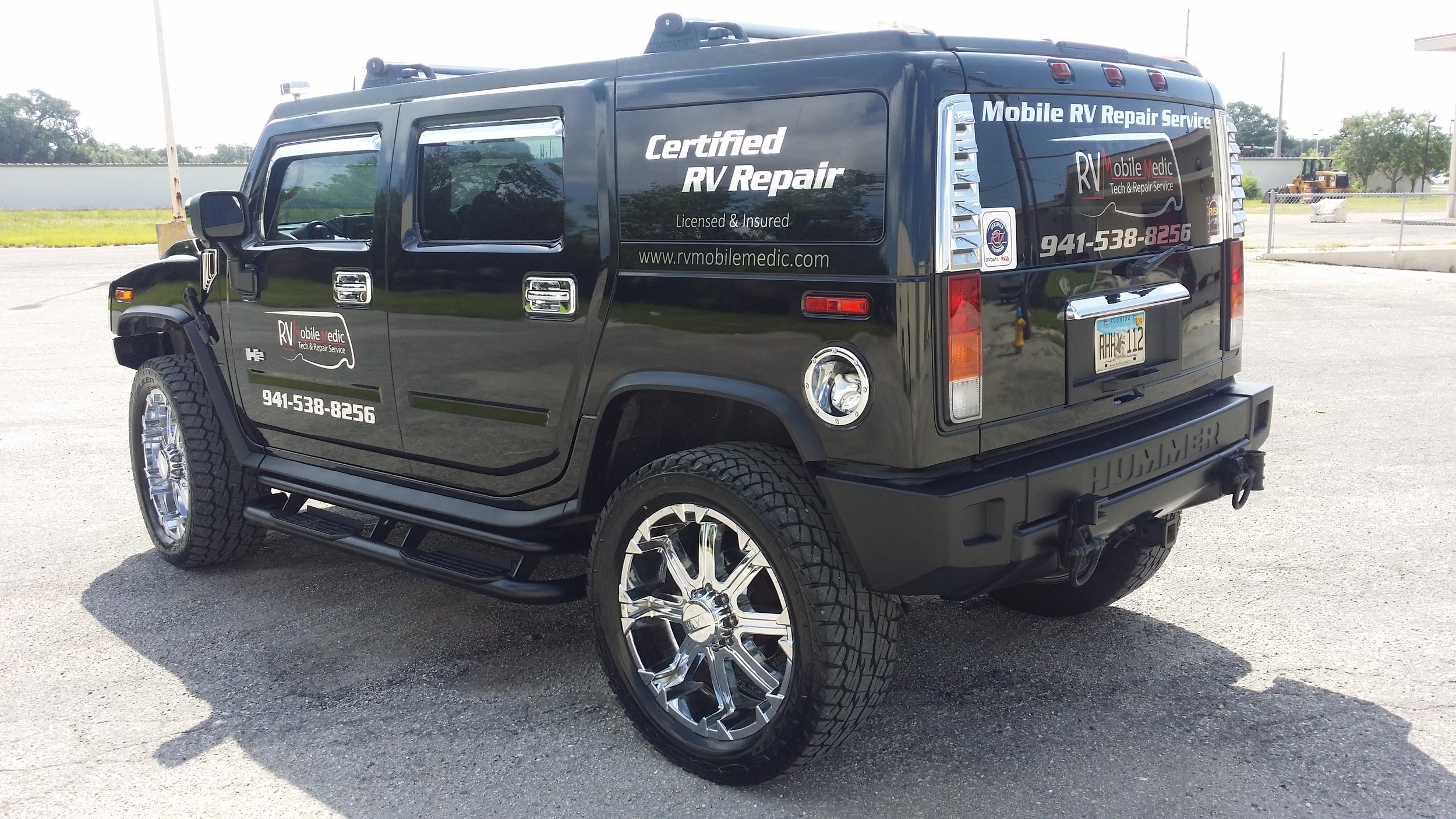 Chrome Graphics
Chrome vinyl was used on this Hummer to match the chrome accents. This vehicle looks sharp!
Full Vehicle Wrap
A full vehicle wrap covers the entire surface area of the truck - including the top. This is the best option for vehicles that need complete color changes (this truck is actually green under the wrap).
Full Vehicle Wrap With Window Perforation
Tailgate Wrap
If wrapping the full vehicle is not in the budget a tailgate wrap is an excellent option. Remove the tailgate and leave it with us while the vehicle stays in use = No Down Time!
Partial Wrap with Vinyl Lettering
Reduce the cost of a full wrap with a partial. Blank white vehicles work best for partial wraps.
3/4 Vehicle Wrap
Partial Vehicle Wrap
Partial Vehicle Wrap
Vehicle Wrap
Partial Vehicle Wrap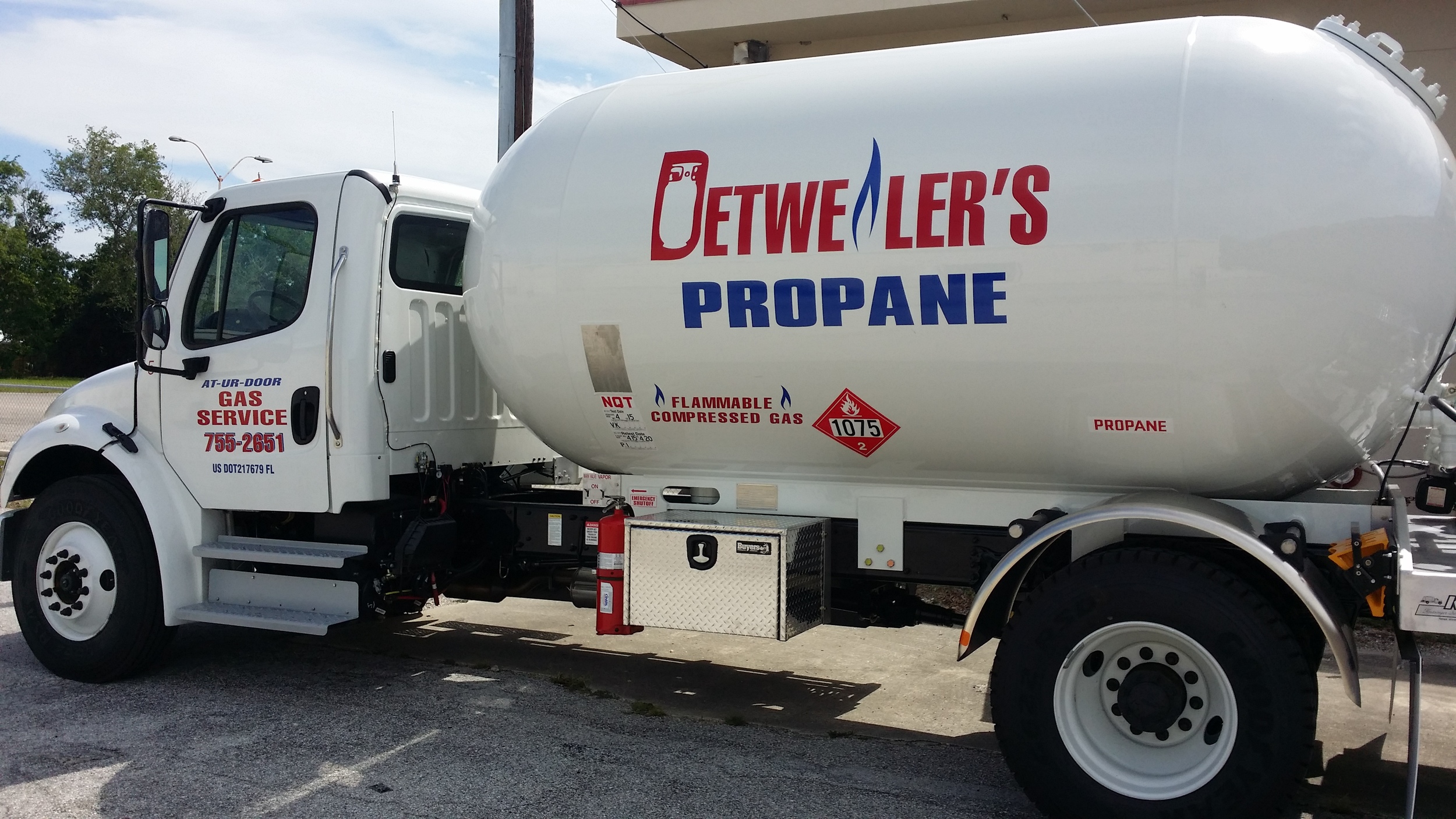 Fleet Graphics
We save all art files so your fleet will be consistent in size, color, layout etc.
Trailer Lettering / Graphics
The blue and green are a great contrast to the bright white trailer. Lawn trailers get pulled all over town and stop at each clients home - it's a great source of advertising!
Partial Bus Wrap
The wrap covers most of the bus but is considered a partial wrap because it does not cover the windows. For a more dramatic finish, the windows would be wrapped over or wrapped in window perforation so it could been seen through from the inside.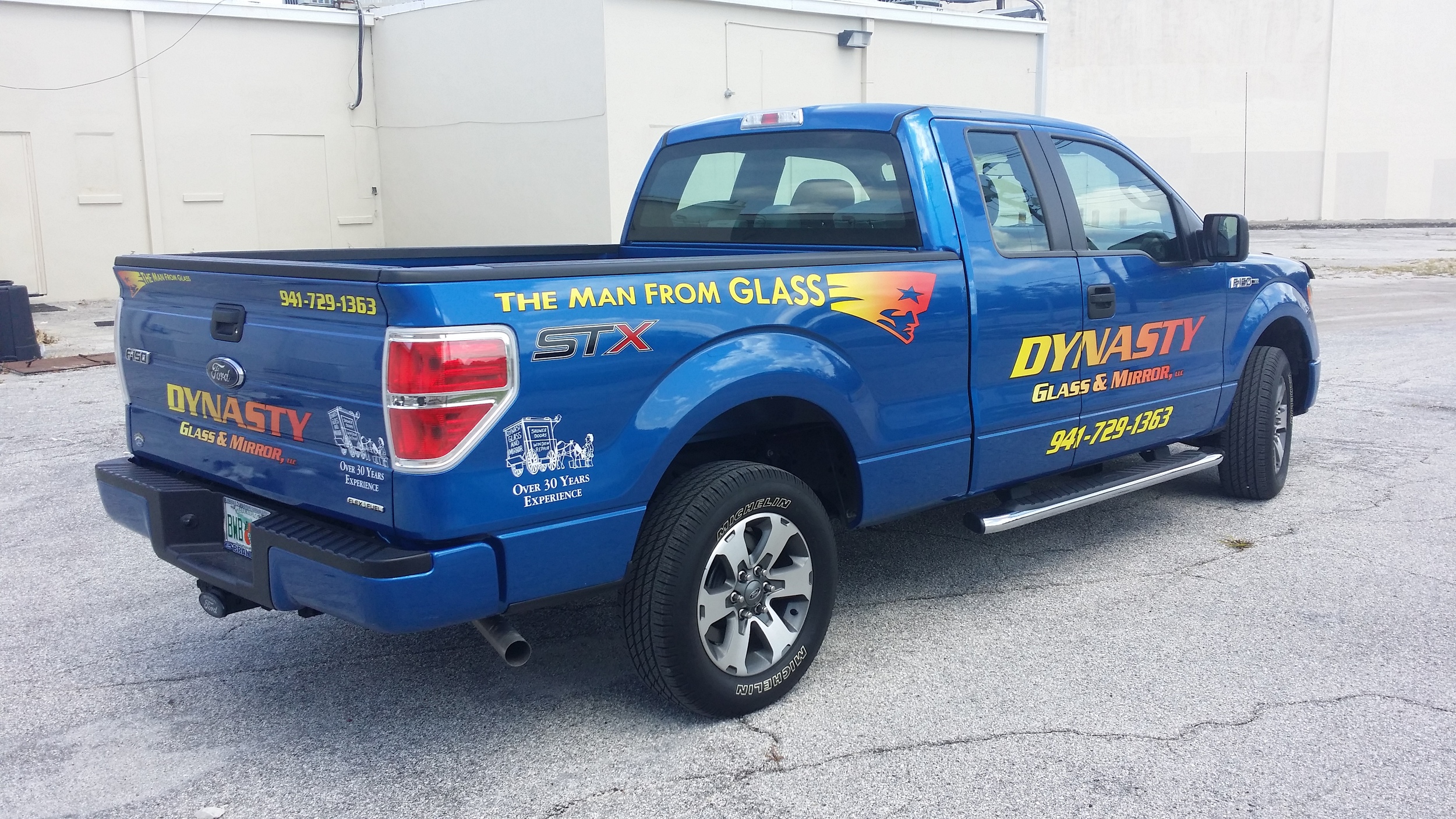 Digital Graphics
The vinyl used on this vehicle was digitally printed on 3M wrap material. With this color combo Dynasty really stands out.
"Billboard" Style Trailer Lettering
This basic lettered trailer was used as a mobile billboard. It's a great option for temporary signage or for signage where a permanent sign would require a permit.
Vinyl Lettering, Digital Graphic Combo
The addition of the hibiscus flower makes this trailer pop.
Fleet Lettering
Basic vehicle lettering
Trailer Lettering / Graphics
Fleet Graphics
This is a combo of reflective and non reflective graphics.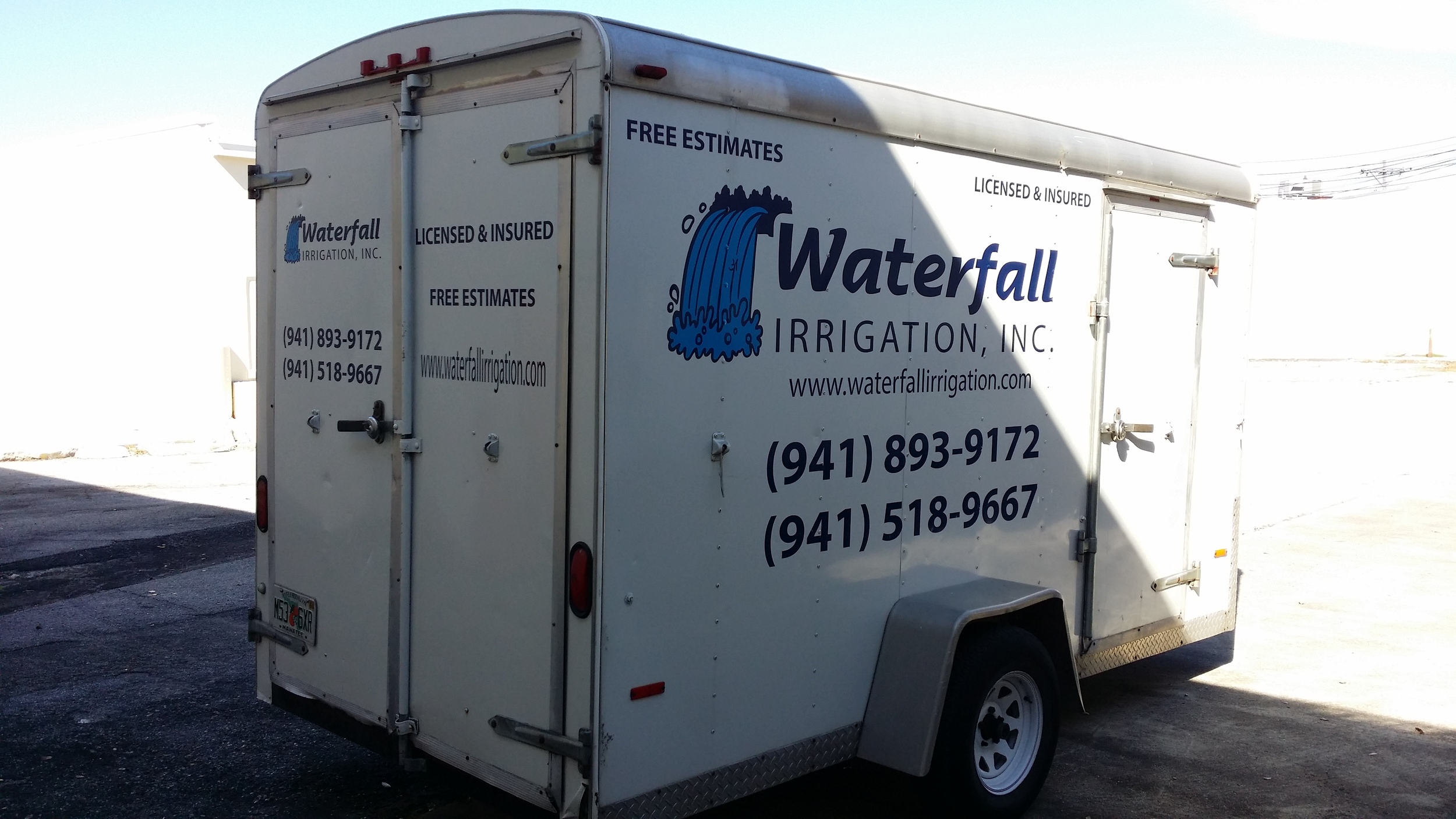 Trailer Lettering / Graphics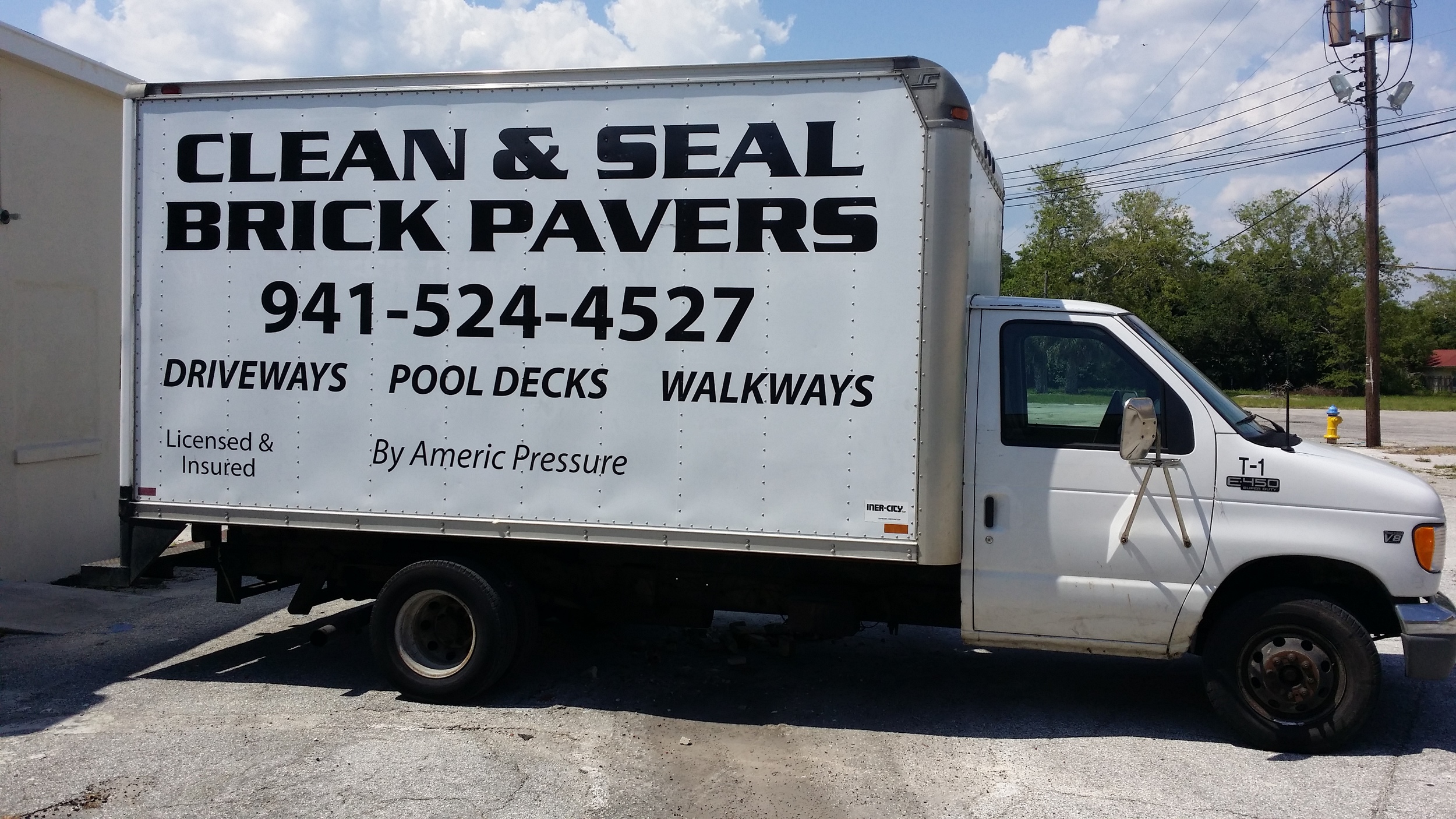 Basic Vinyl lettering
One color basic lettering when done right is economical and gets the message out clearly.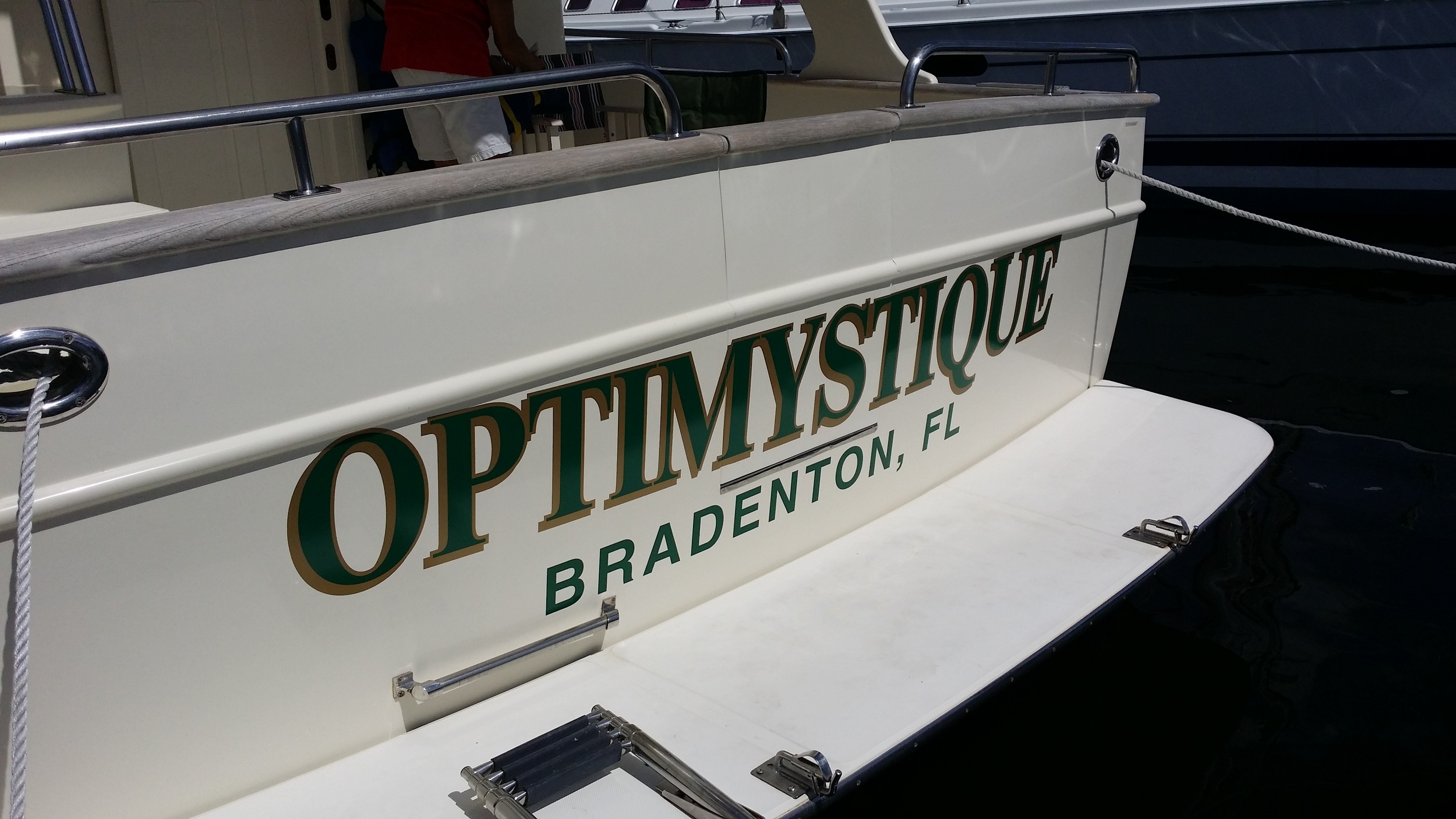 Transom Lettering
The transom lettering shown here is in hunter green with flat gold outline. We install on site at local marinas.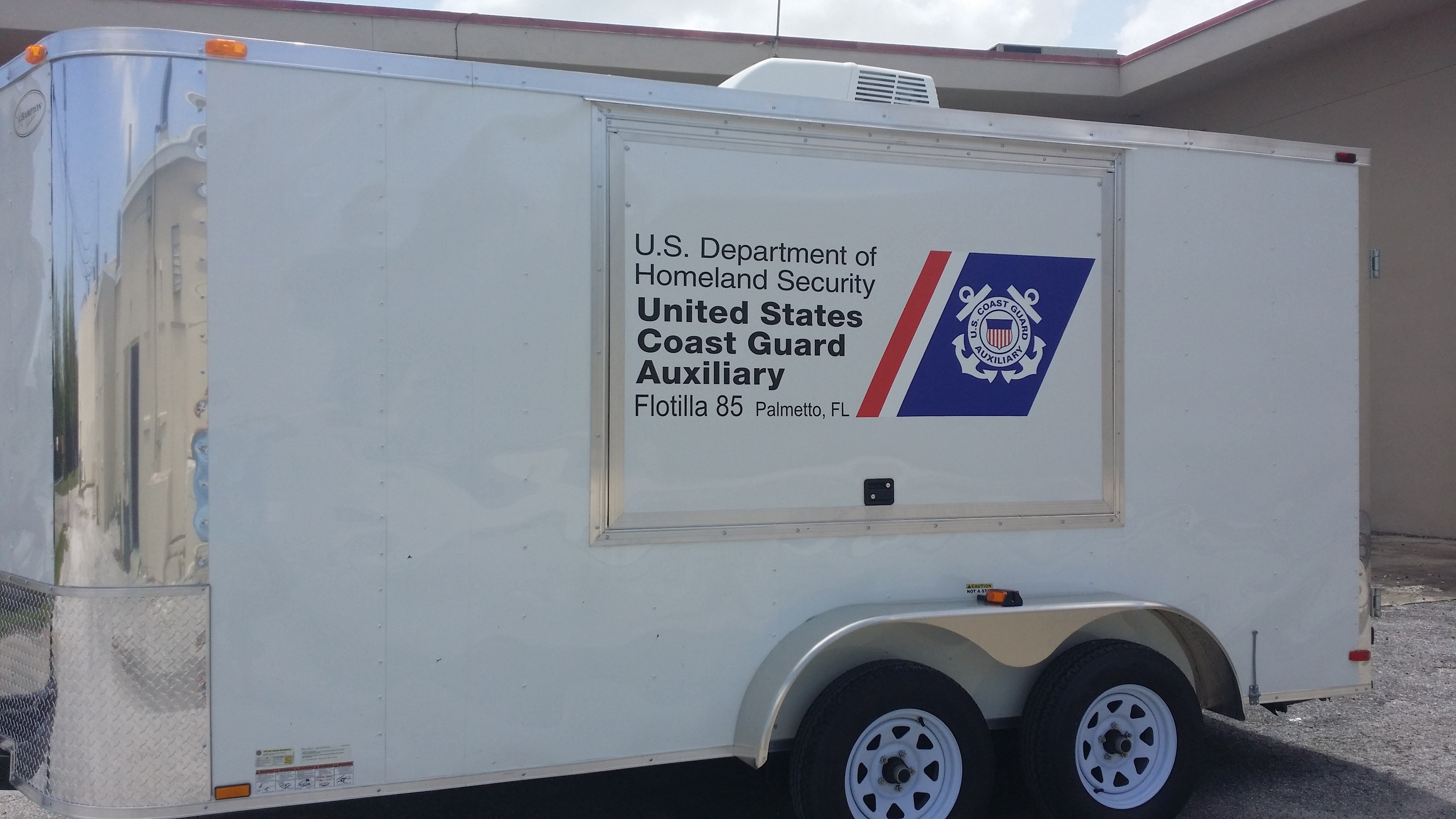 Trailer Graphics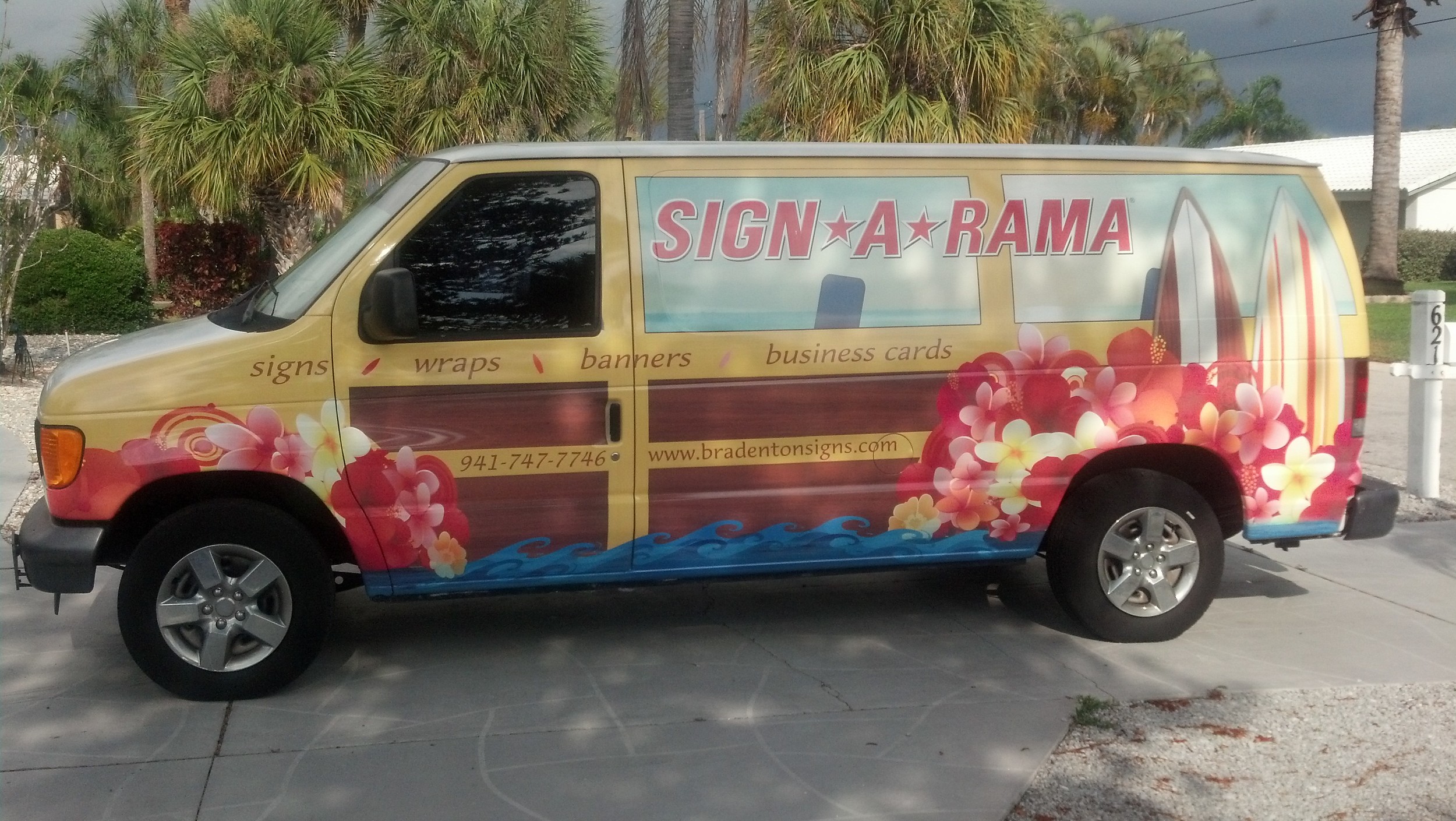 Full Vehicle Wrap
Vehicle Graphics
This basic one color vinyl let's you know the party has arrived.
Vehicle Lettering and Graphics
If you're going to be driving between AMI and Lakewood Ranch you might as well advertise your business and the brands you sell.
Partial Wrap
Partial wraps are less expensive than a full wrap and often look just as good.
Partial Wrap
Vehicle Lettering / Graphics
Box Truck Wrap
Tailgate Wrap
Tailgate wraps advertise to everyone driving behind you. Drop it off in the morning and pick it up later in the afternoon. You won't be without your vehicle while it's getting wrapped.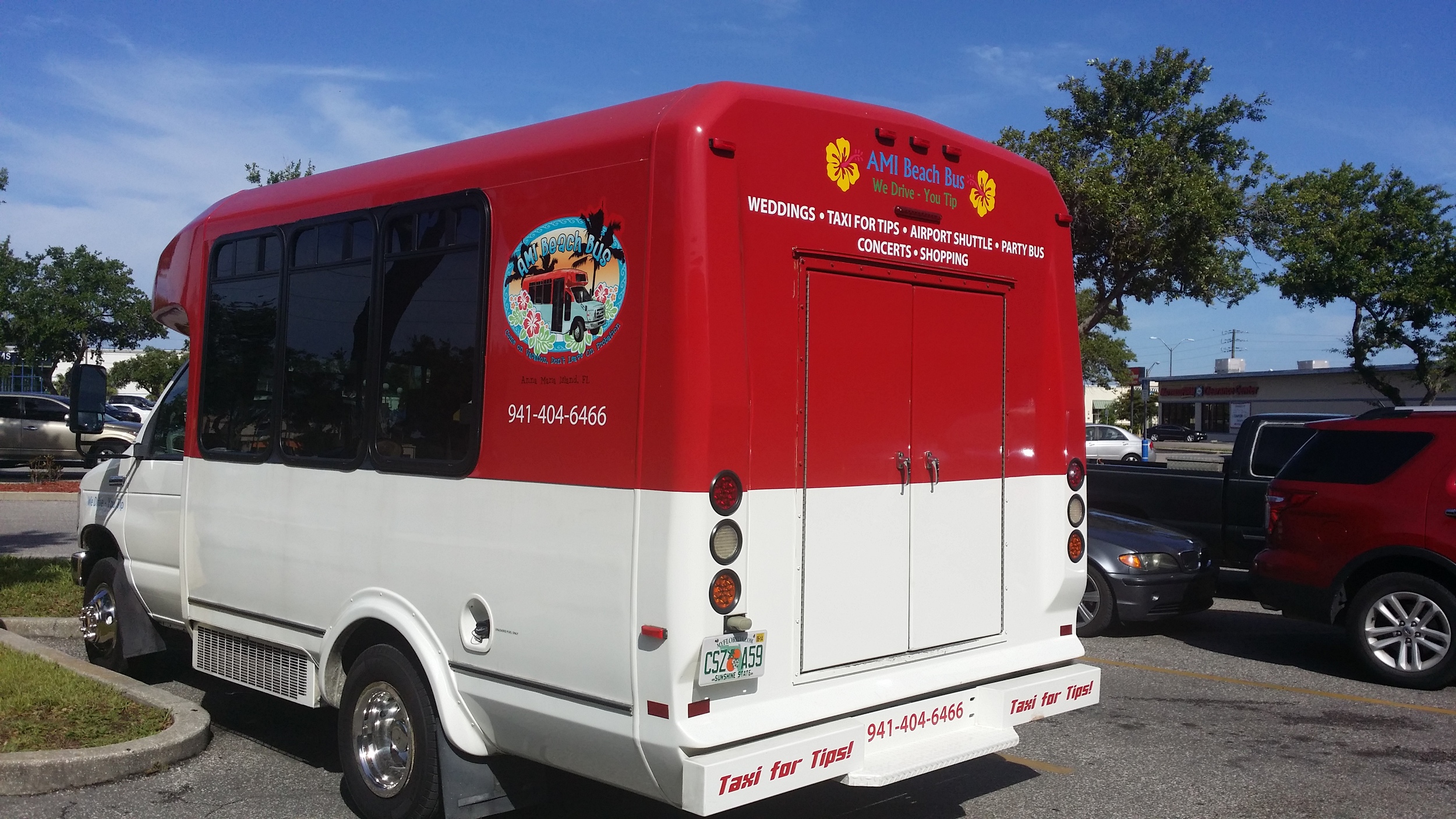 Vehicle Graphics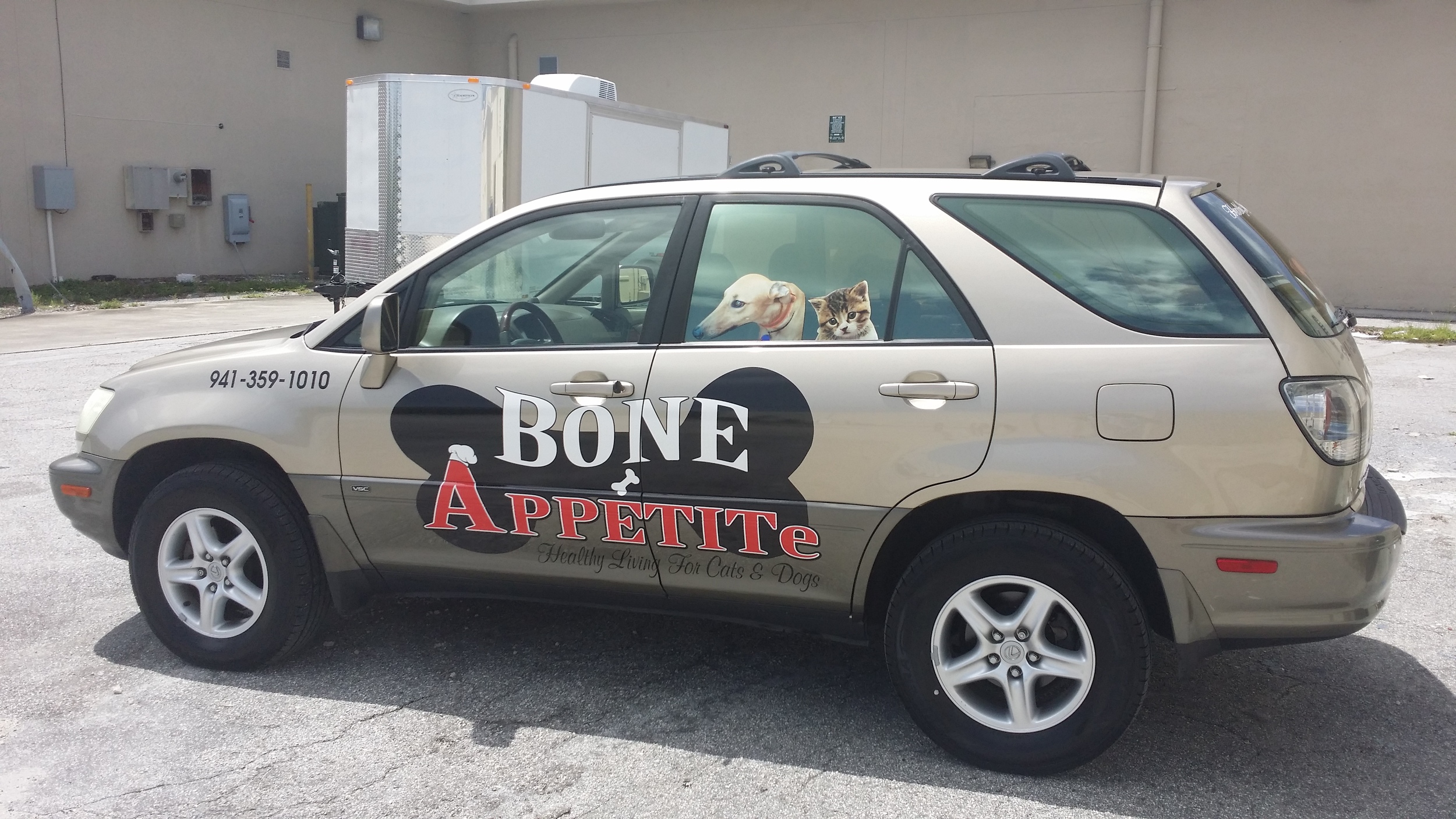 Partial Wrap
Most likely the sweetest wrap we've done.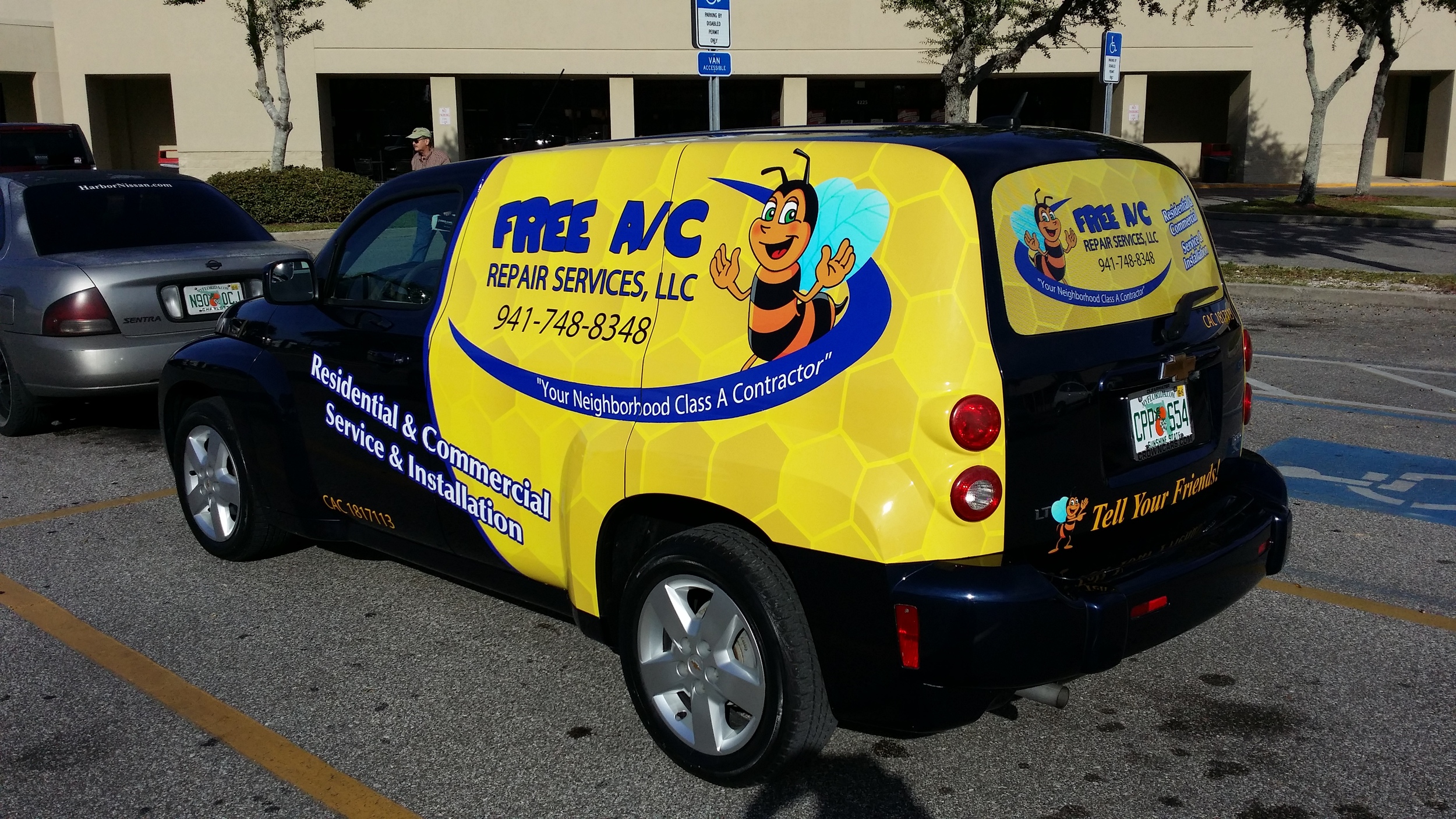 Partial Wrap
This color contrast is sure to catch your eye. The sides are partially wrapped and the rear window is covered in perforation. From inside there is clear visibility but from the outside tools and other contents cannot be seen.
Boat Lettering
This digital graphic is also on the transom along with the port of call. We can use your existing art or design a whole new look for your boat.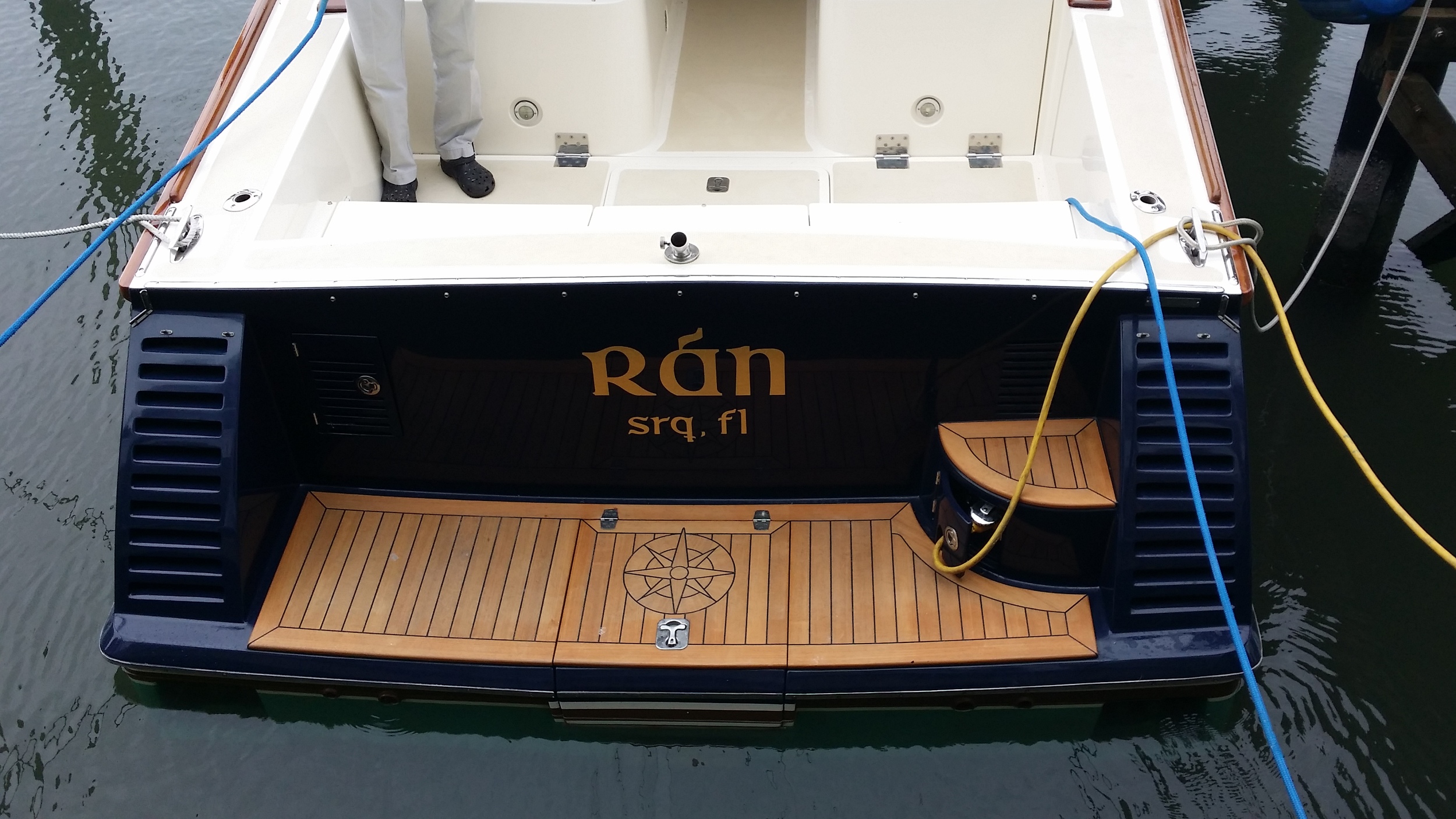 Transom Lettering
Gold Leaf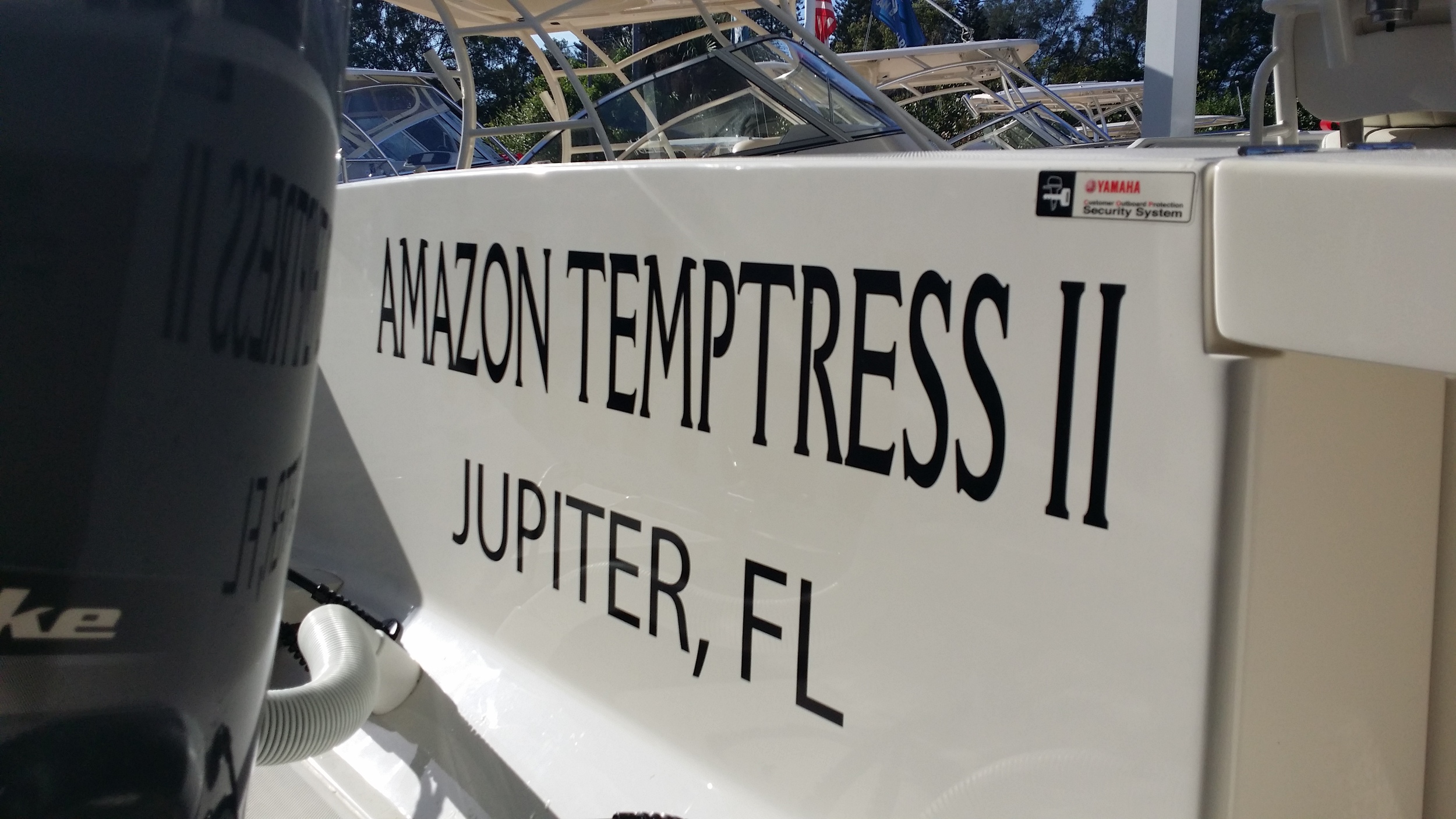 Transom Lettering
Basic black transom lettering. Done on site at Cannons Marina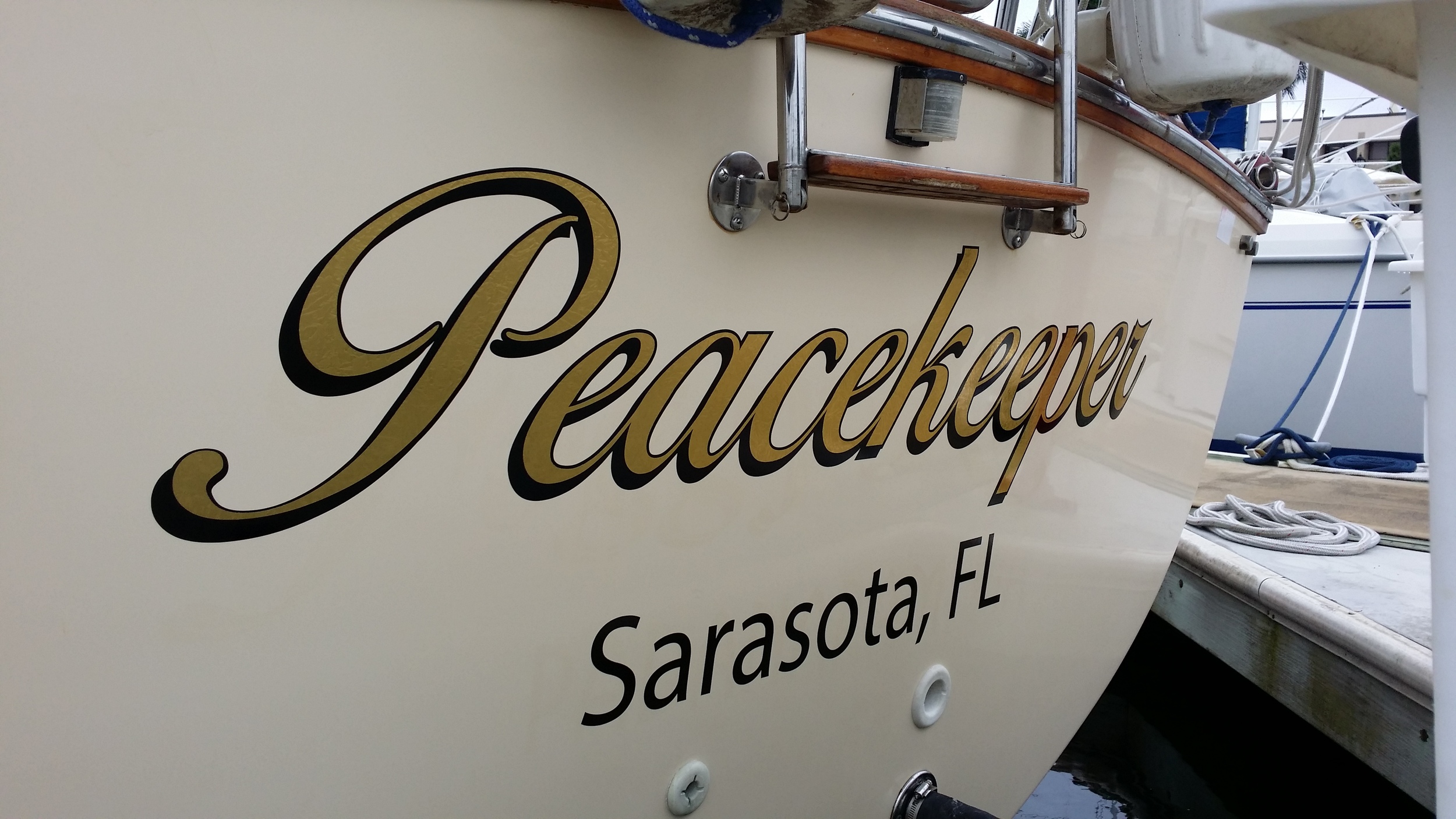 Transom Lettering
Gold Leaf with black shadow. Classic!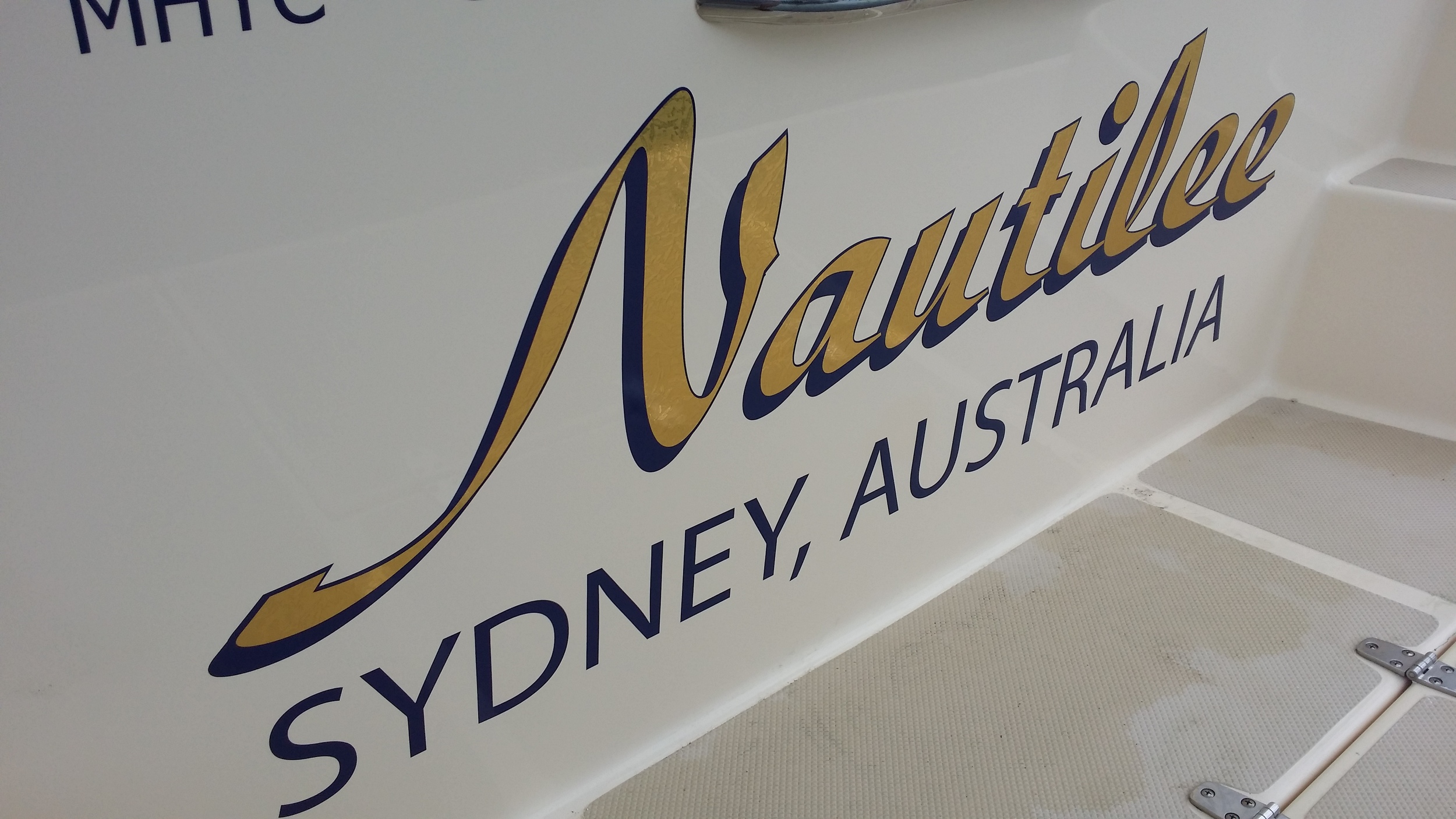 Transom Lettering
Gold leaf with blue shadow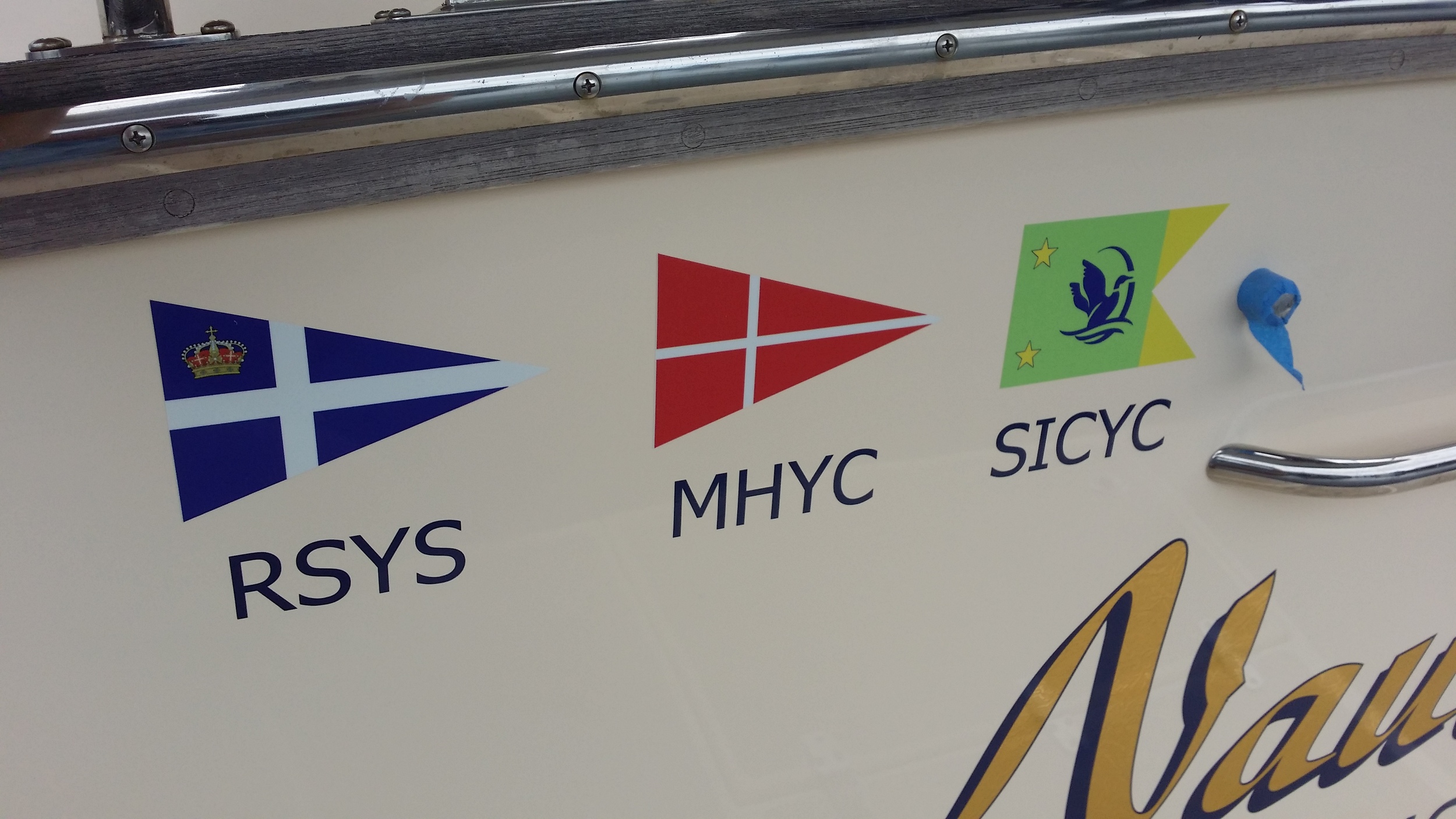 Digital Graphics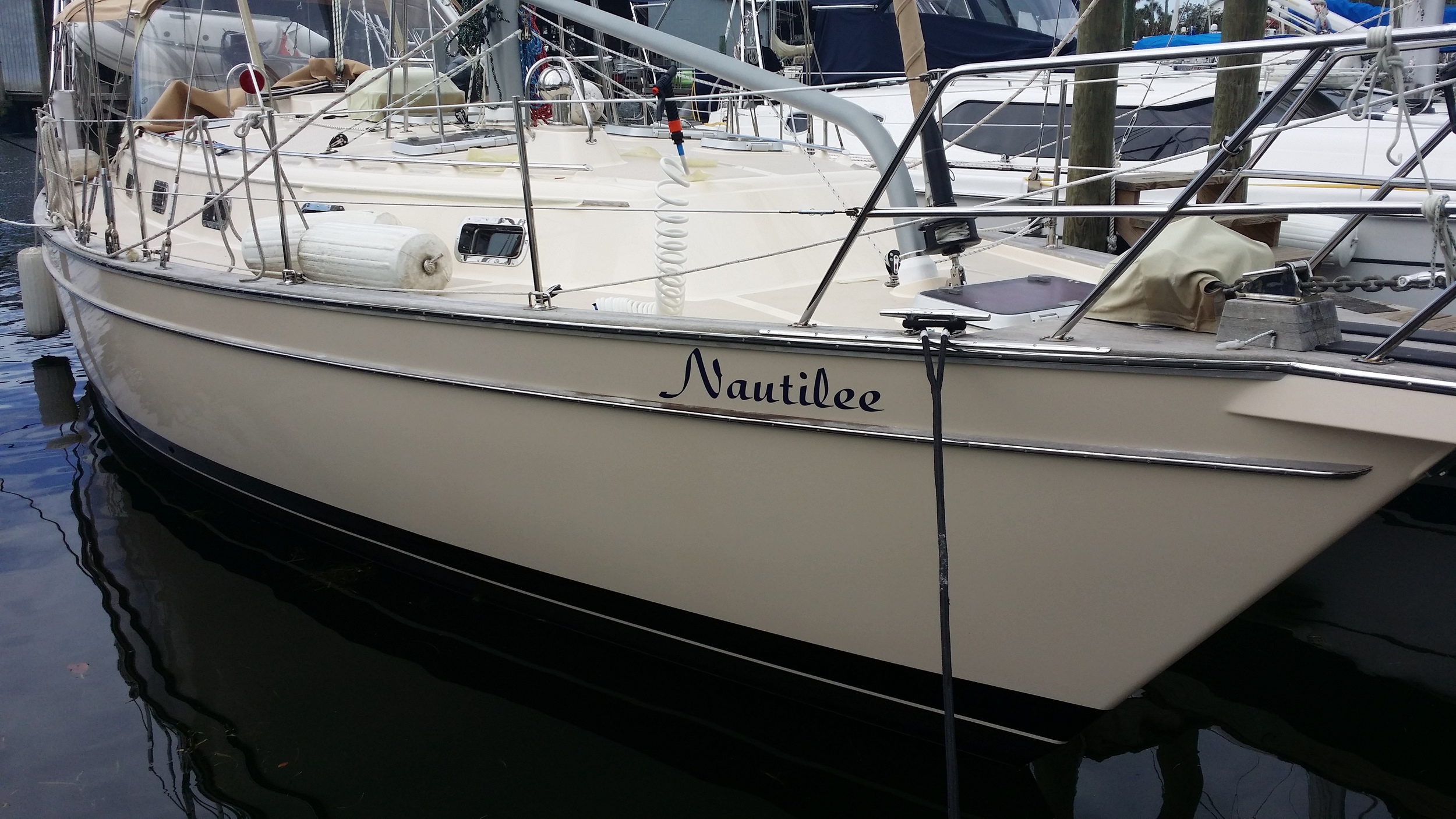 Bow Lettering
Same font as the transom but basic blue instead of the full gold leaf.
Transom Lettering
Basic white stands out well on this boat. The dinghy is lettered in blue to match.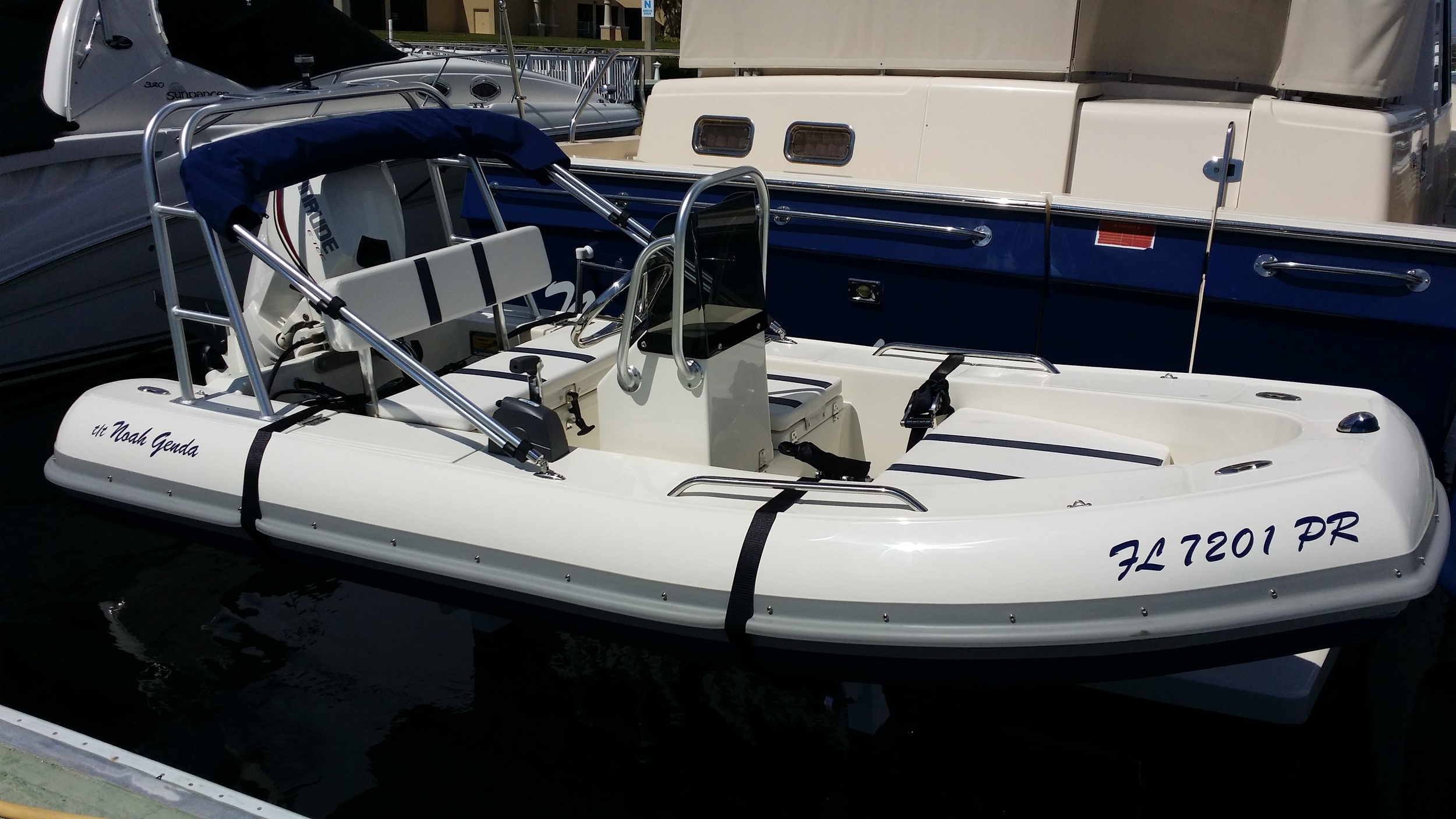 Dinghy Lettering
In addition to it's tender name this dinghy also has custom registration numbers.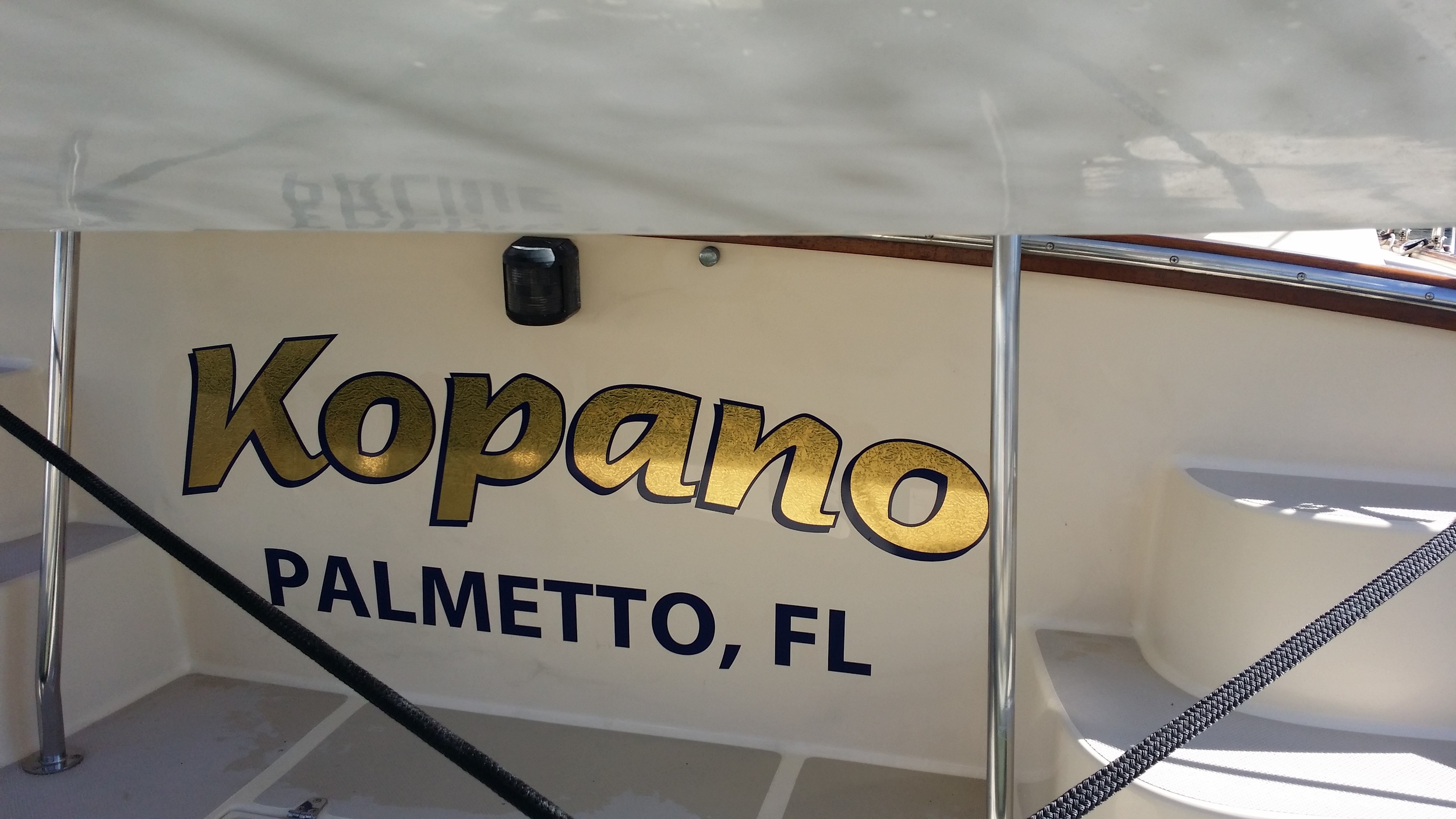 Transom Lettering
Gold leaf with a navy shadow and port of call.
Transom Lettering
Digitally printed transom lettering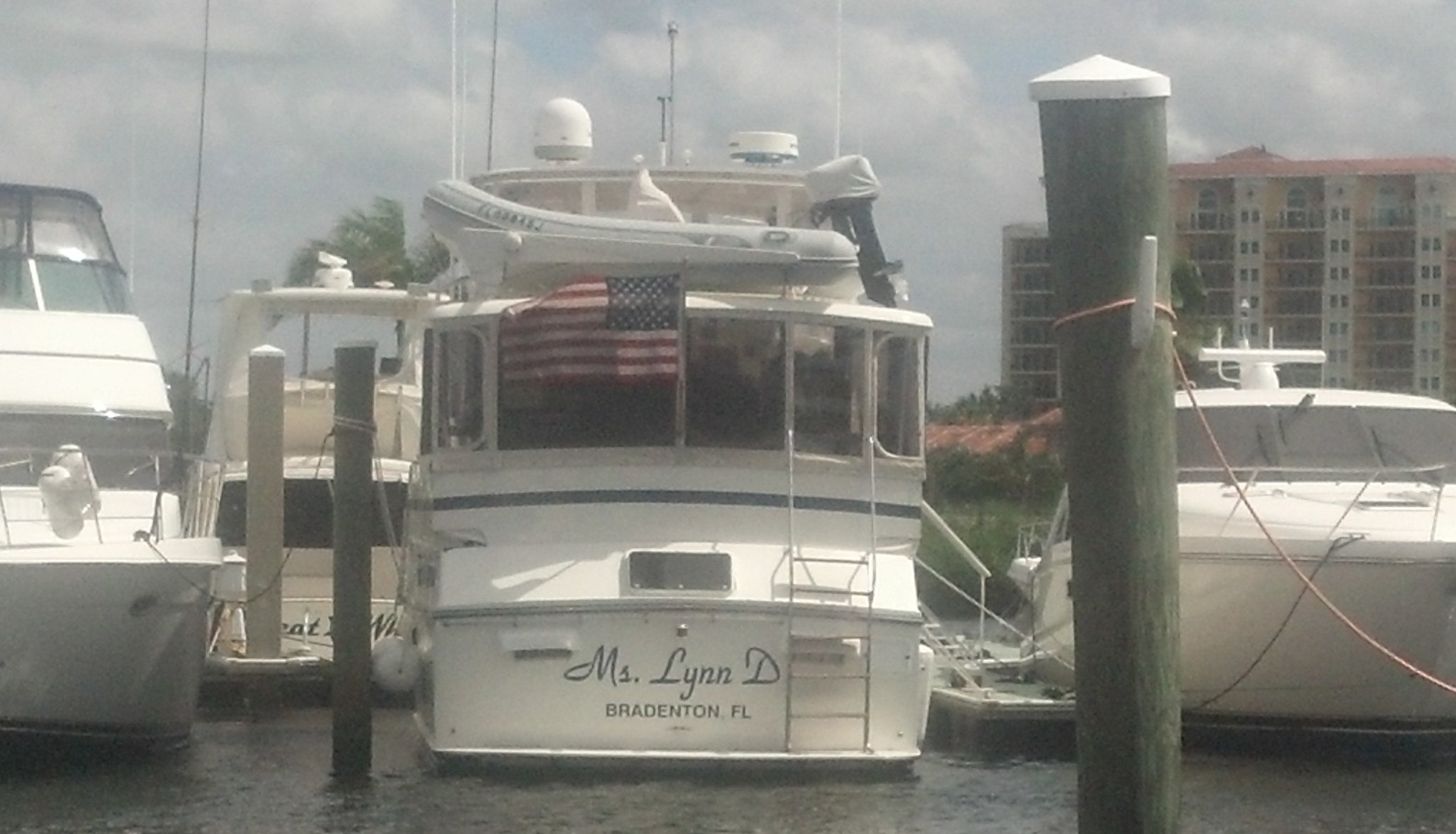 Transom Lettering
Graphics
Window Lettering with Digital Print
Vehicle Lettering
Fleet Graphic
Vehicle Graphics
Box Truck Wrap
Reflective Fleet Graphics
Box Track Wrap
Full Color Change Wrap
Trailer Lettering / Graphics
Transom Lettering
Navy With Yellow Shadow
Transom Lettering
Gold leaf with black outline
Transom Lettering
Green with black shadow