INTERIOR
Click the + symbol on each photo for a brief description of the signage shown.
If you don't see a photo of the type of signage you need, give us a call or send an email. Chances are pretty good that we have made something similar or we can come up with a custom solution for you.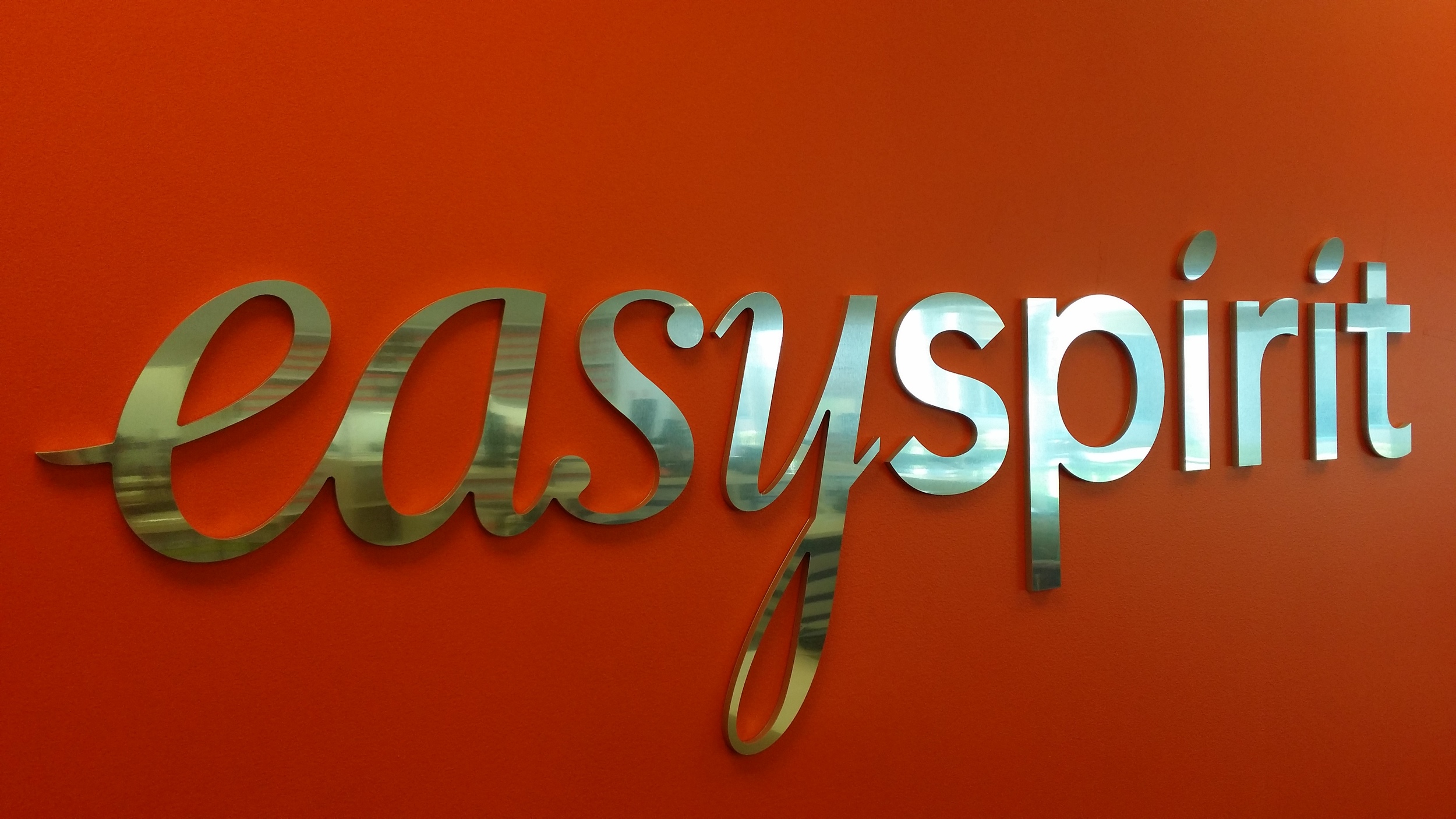 Dimensional Lettering
Dimensional foam lettering with mirrored laminate.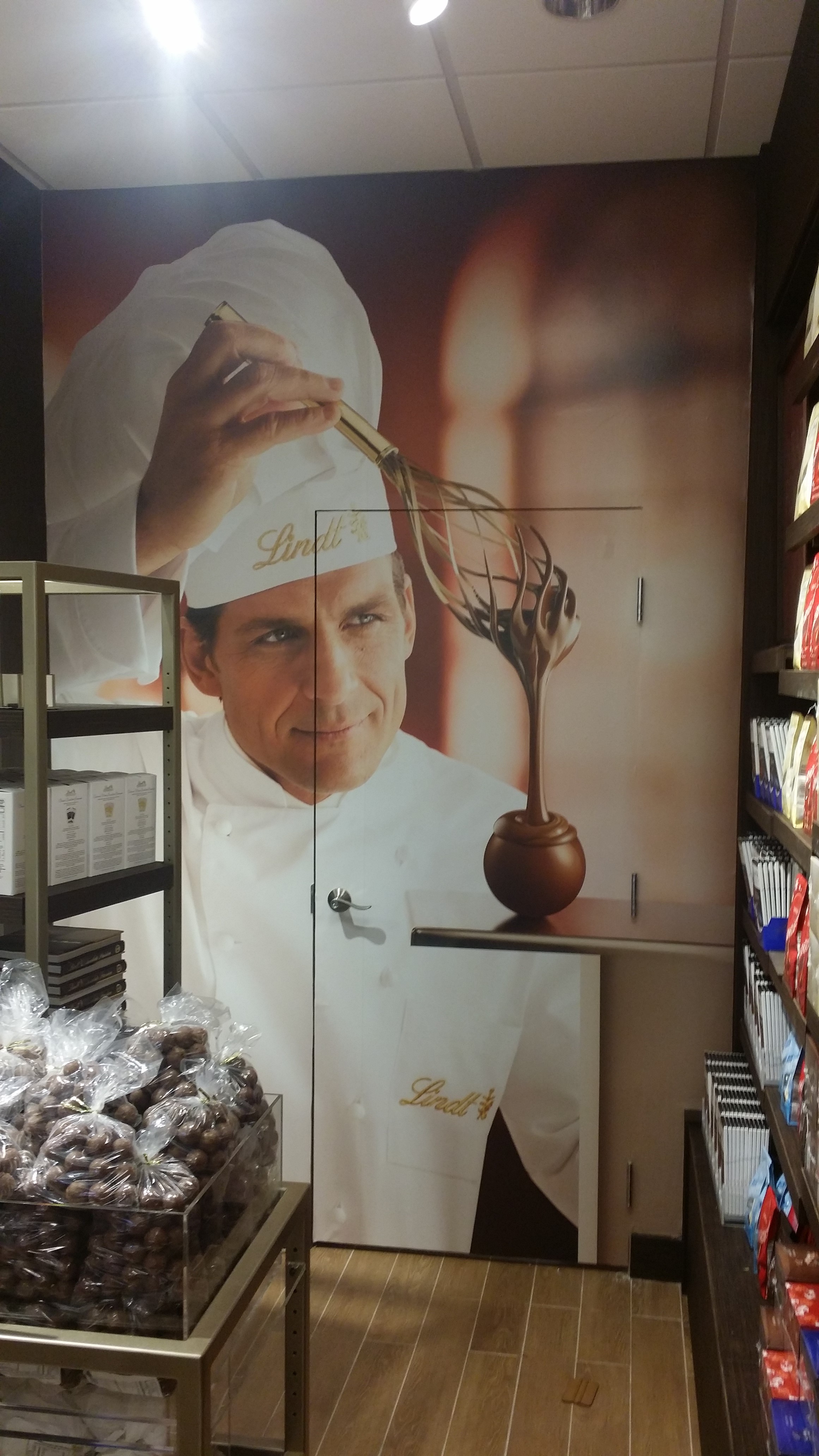 Digital Print
This is a digitally printed wall graphic. Shown here it is applied directly to the wall and over a door.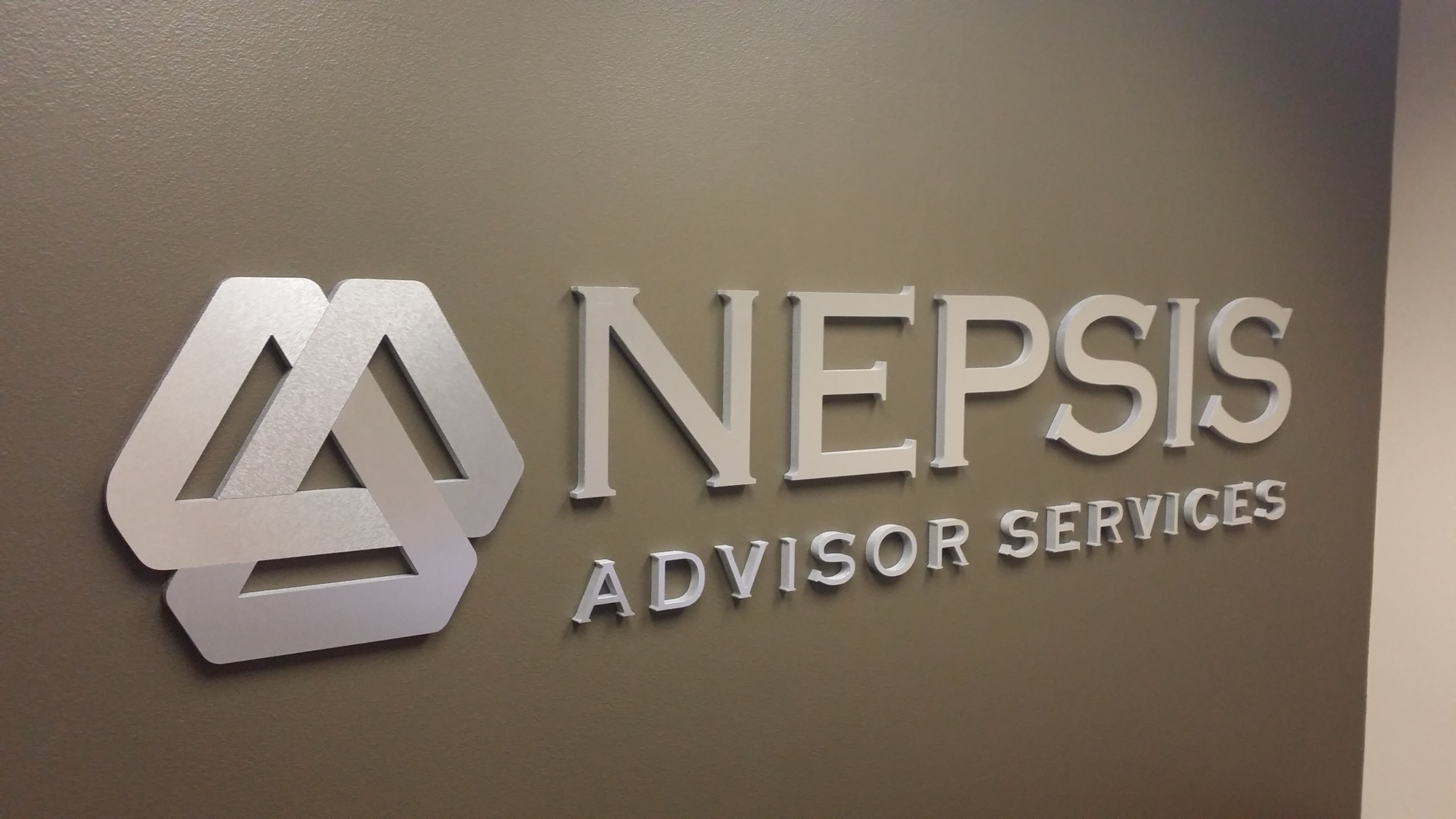 Dimensional Lettering / Logo
Foam lettering with brushed metal laminate. This style of dimensional lettering comes in a variety of depths and finishes. It's a simple yet classy way to dress up the front lobby or behind the reception desk.
Dimensional Acrylic Lettering
Acrylic dimensional lettering with a brushed metal face. This style of lettering offers an upscale, polished look. It can be applied directly to the wall or can stand off.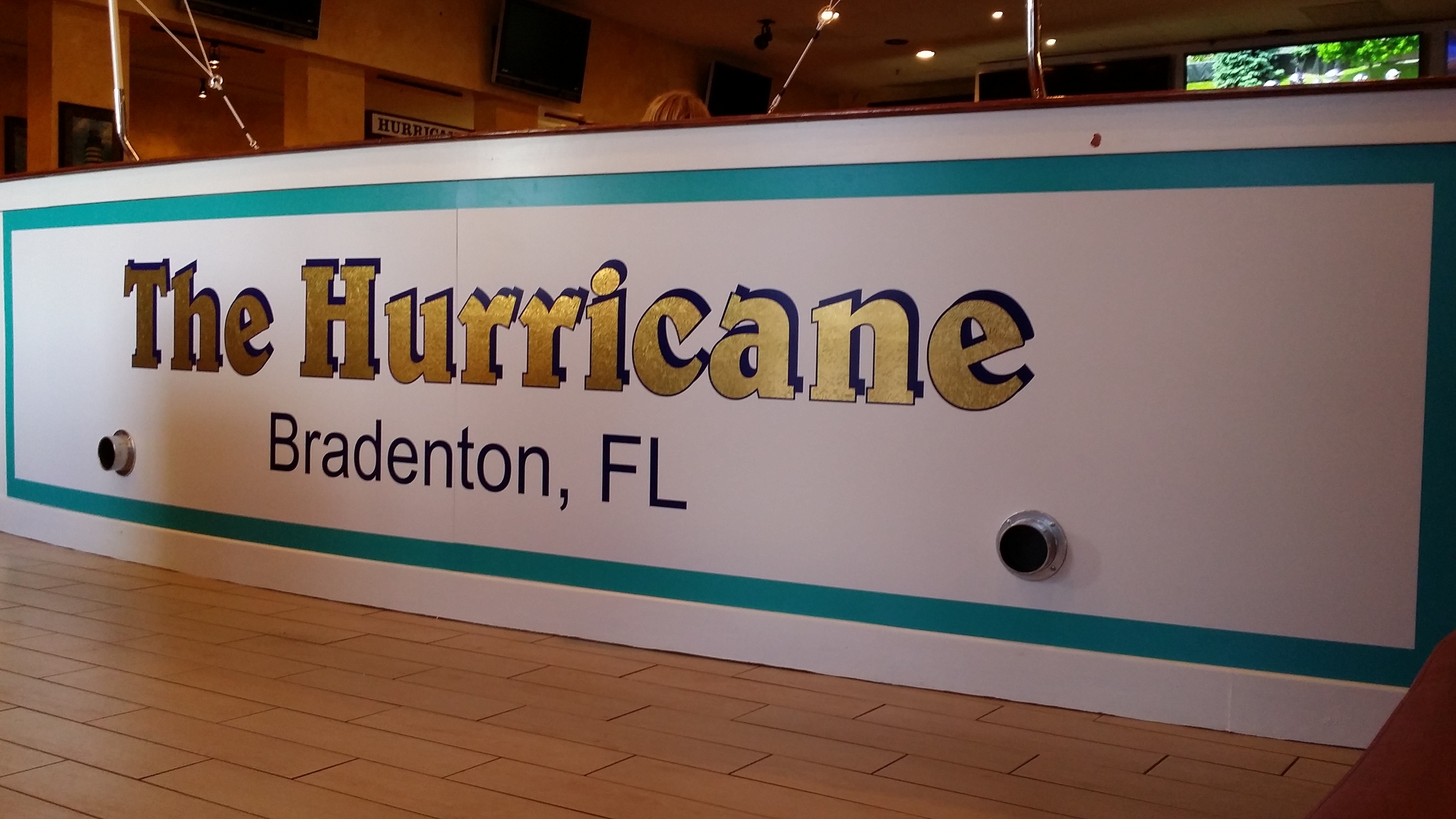 Transom Lettering
While generally outdoors, this transom is inside Hurricane's, a local restaurant. The lettering is done in gold leaf with a dark vinyl shadow.
Digitally Printed Image
These large scale digital prints can be applied to the wall similar to wall paper. Choose from individual graphics or seamless designs to cover a larger area.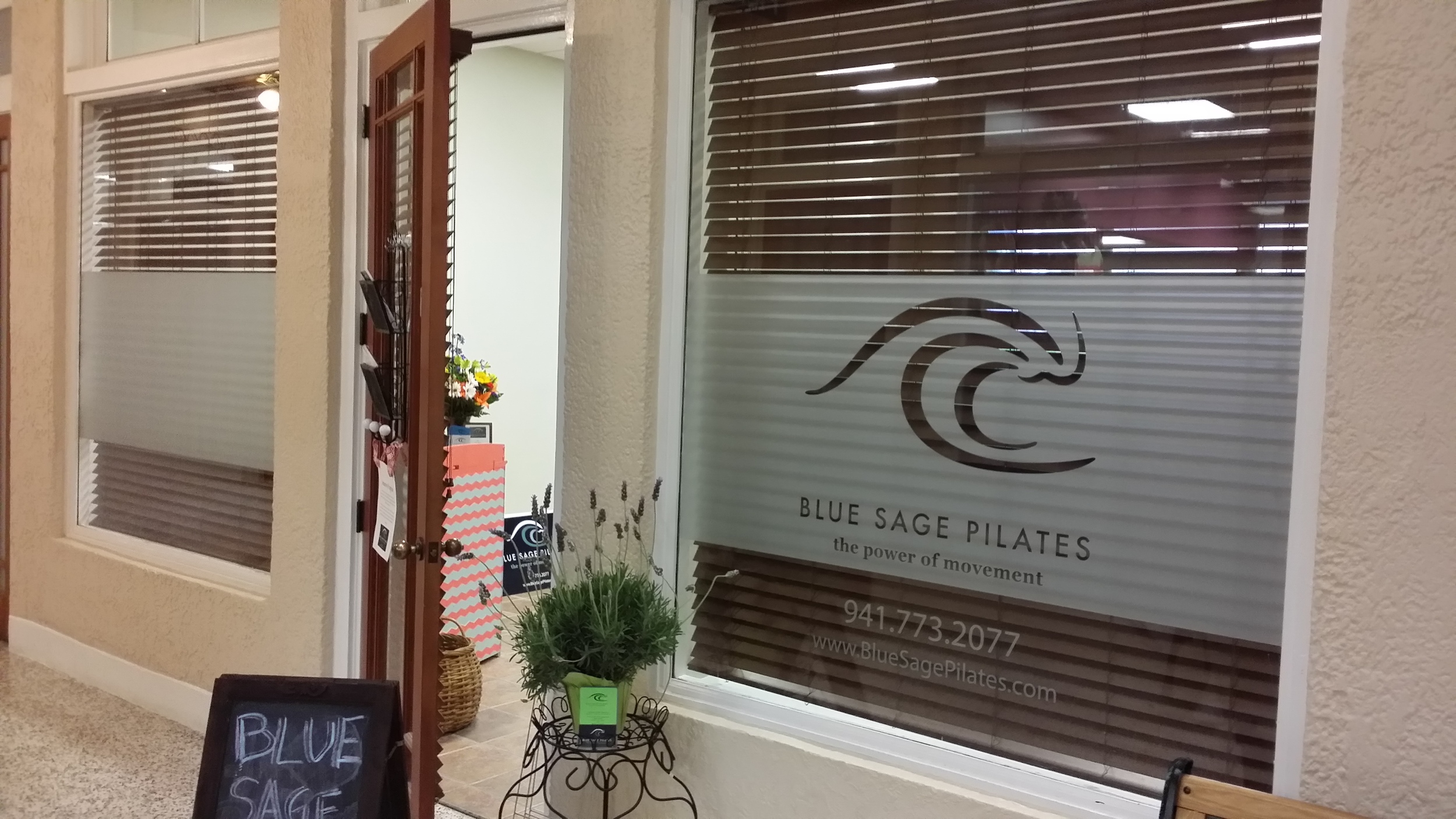 Frosted Glass Vinyl
Frosted glass vinyl is a subtle way to add privacy. It offers the same effect as etched glass but is not permanent.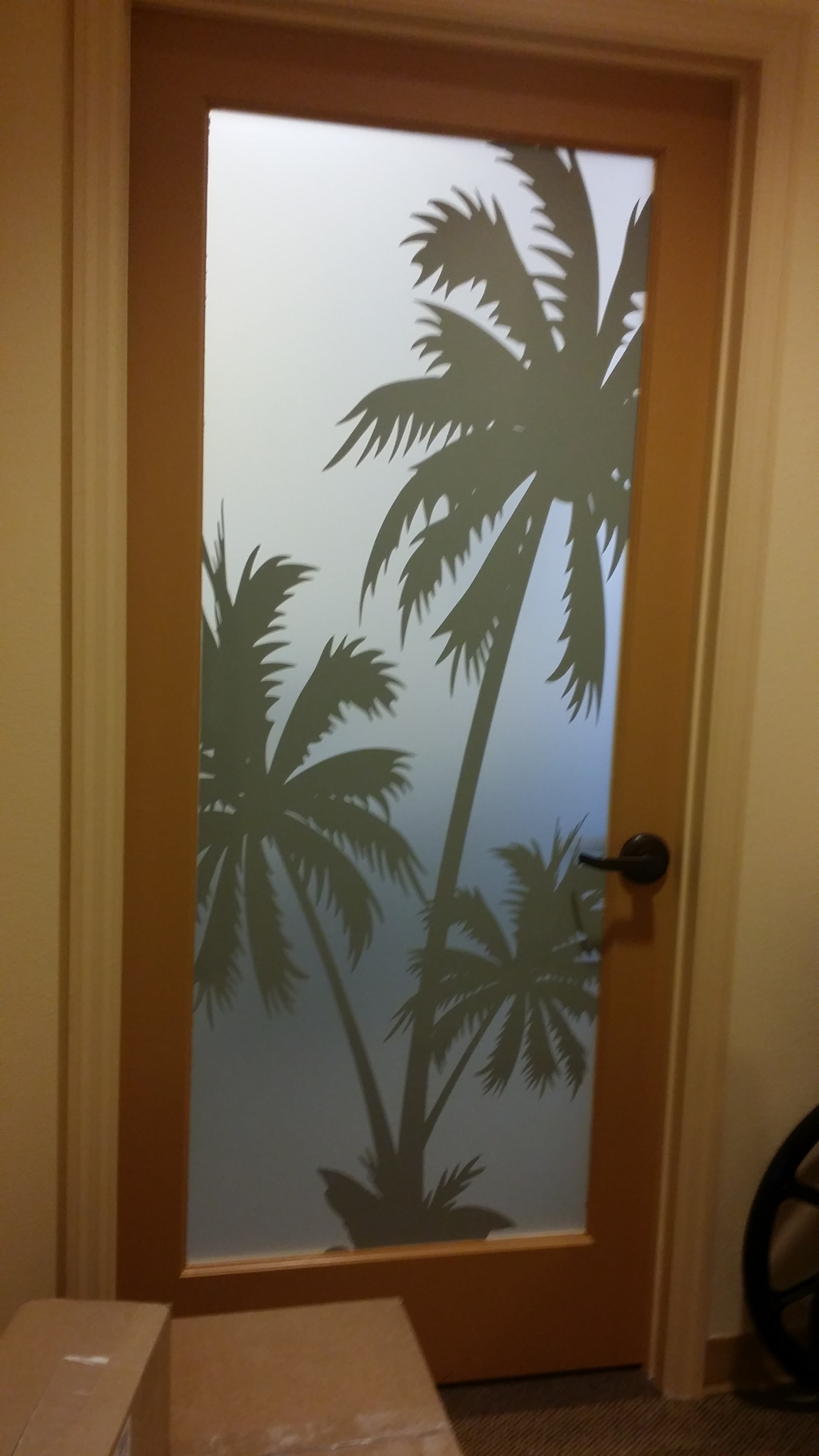 Frosted Glass Vinyl
Frosted glass vinyl with gray vinyl graphics. While frosted glass vinyl generally leaves part of the window visible this door is completely frosted with added vinyl accents. This offers complete privacy while still letting in light.
Custom Dimensional Sign Panel
We used several processes to create this fun sign. The base is custom routed PVC. It has a digitally printed wood grain background with raised, laser cut acrylic letters.
Interior Banner Stands
Easy up and easy down. Retractable banners provide a big impact when deployed and are protected and stored in their included case when not in use. Great for trade shows, lobby displays and presentations.
Enlarged Photo
This is a vacation photo enlarged to fit a customers existing window frame. The photo was taken as a high resolution file.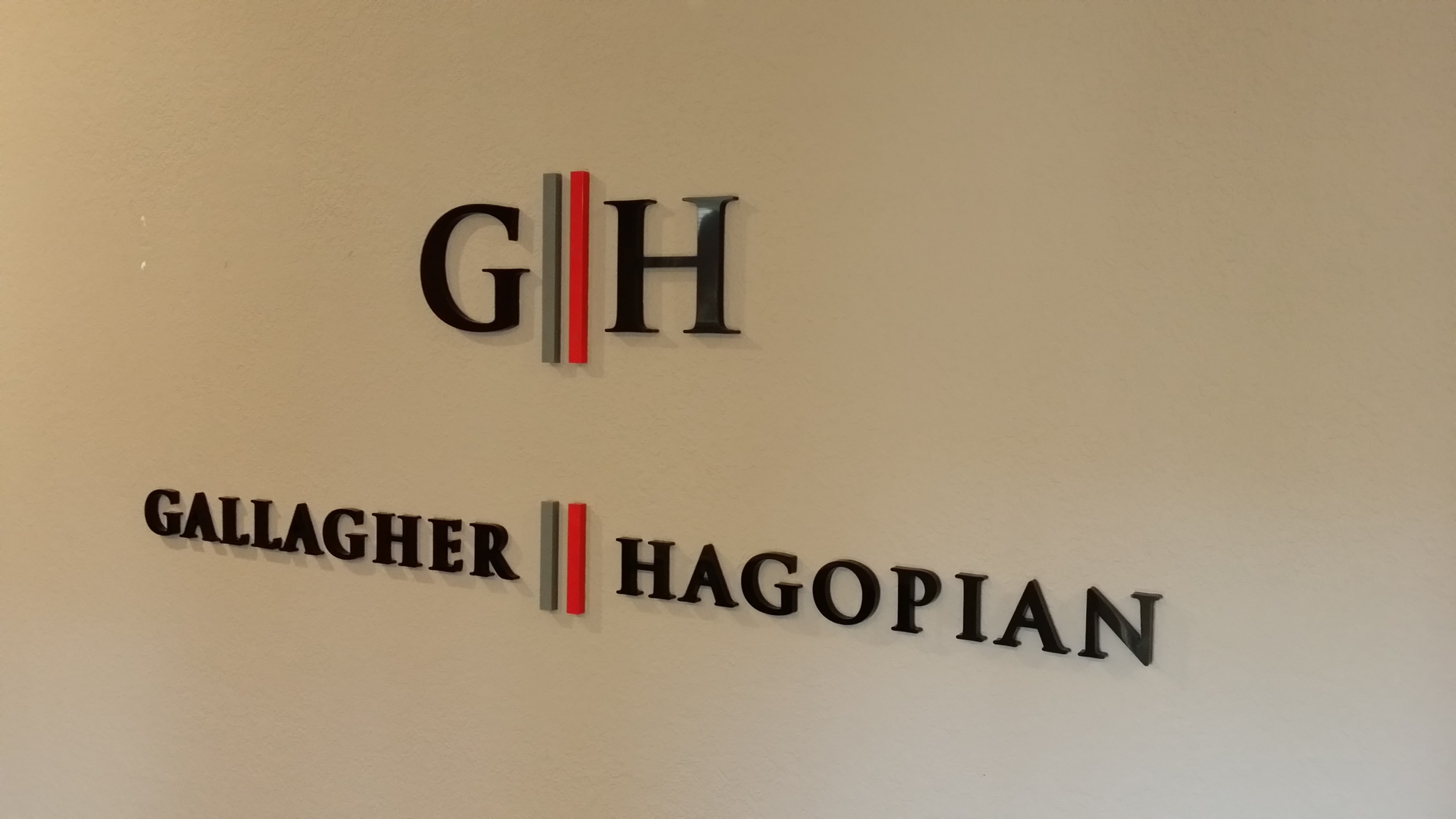 Dimensional Letters
Cut acrylic letters. This style of lettering is offered in a wide variety of colors and thicknesses. It is shown here applied directly to the wall.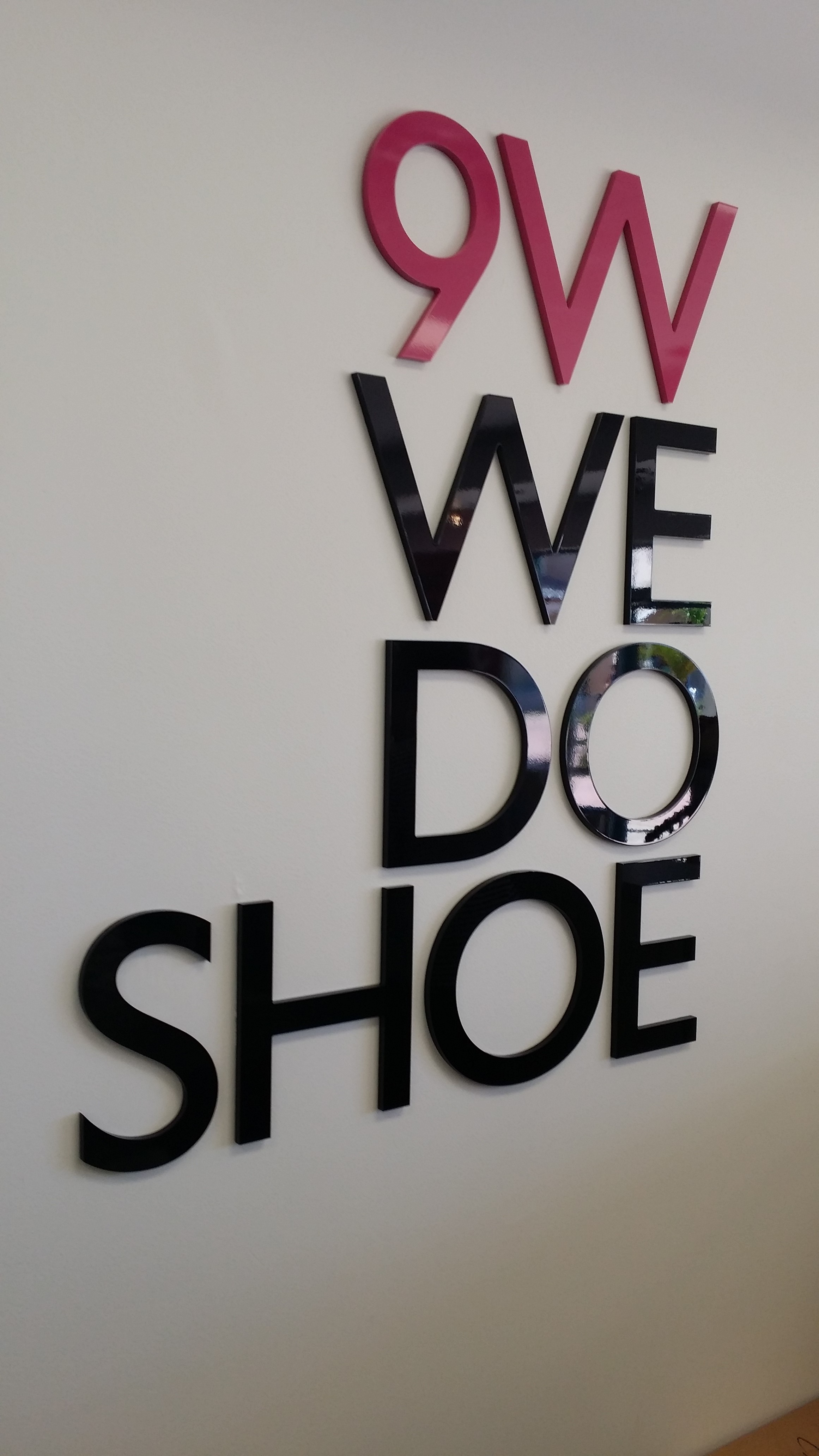 Dimensional Letters
Cut Acrylic lettering applied directly to the wall.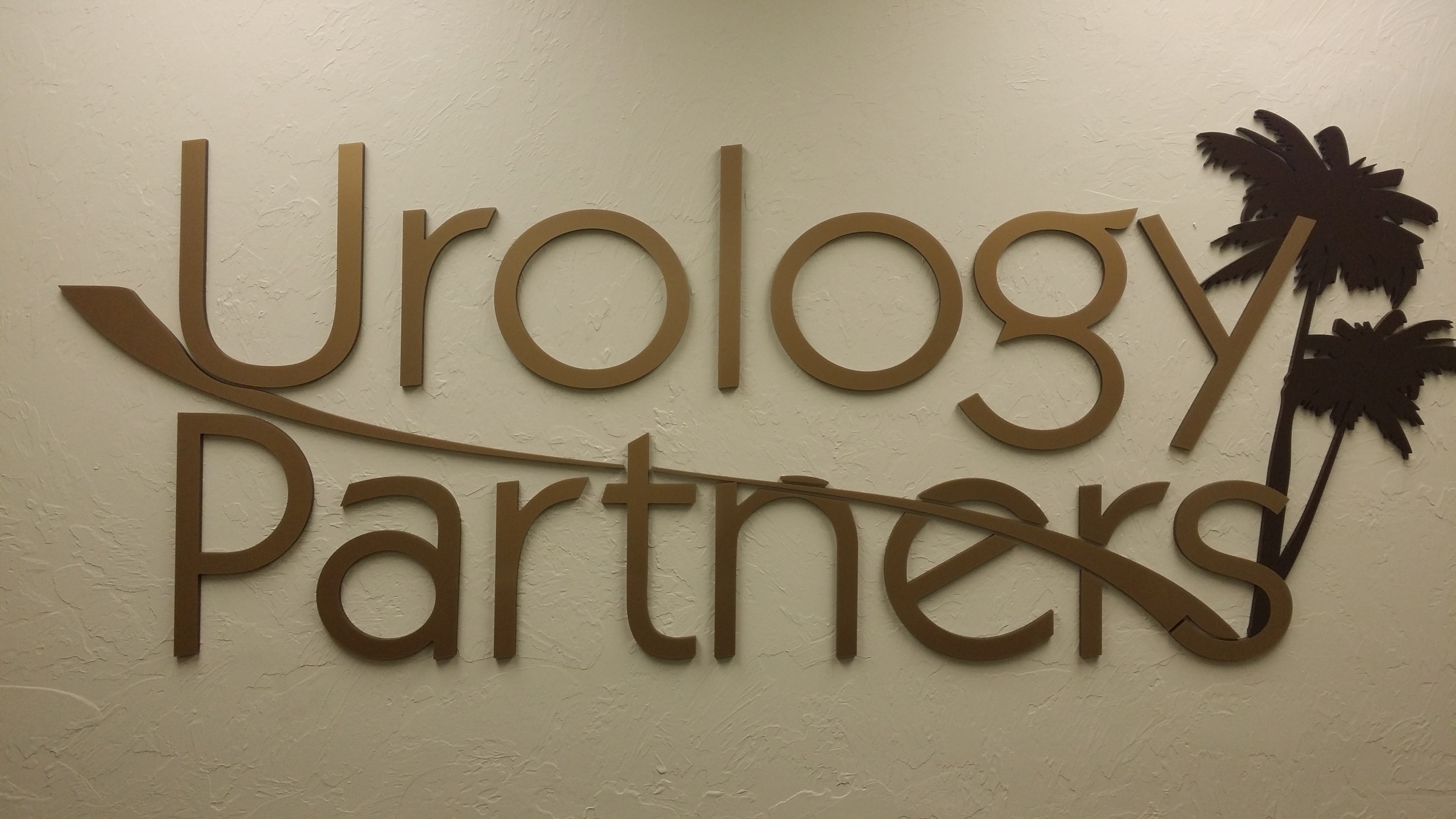 Dimensional Letters
Metalic gold acrylic letters. Shown flush mounted (applied directly to the wall).
Directory / Wayfinding Signage
Which way do I go?
Make it easy to find your way around your building or office with wall mounted or free standing directory signage. We designed these signs to make it easy to switch out individual tenant slots as needed. Smaller versions are available for room signs. Need it to be ADA compliant, no problem. Braille signage is also available.
Dimensional PVC Panel
Add professionalism to any reception, conference or lobby area. Custom routed and painted, this type of sign lets your business make a strong first impression.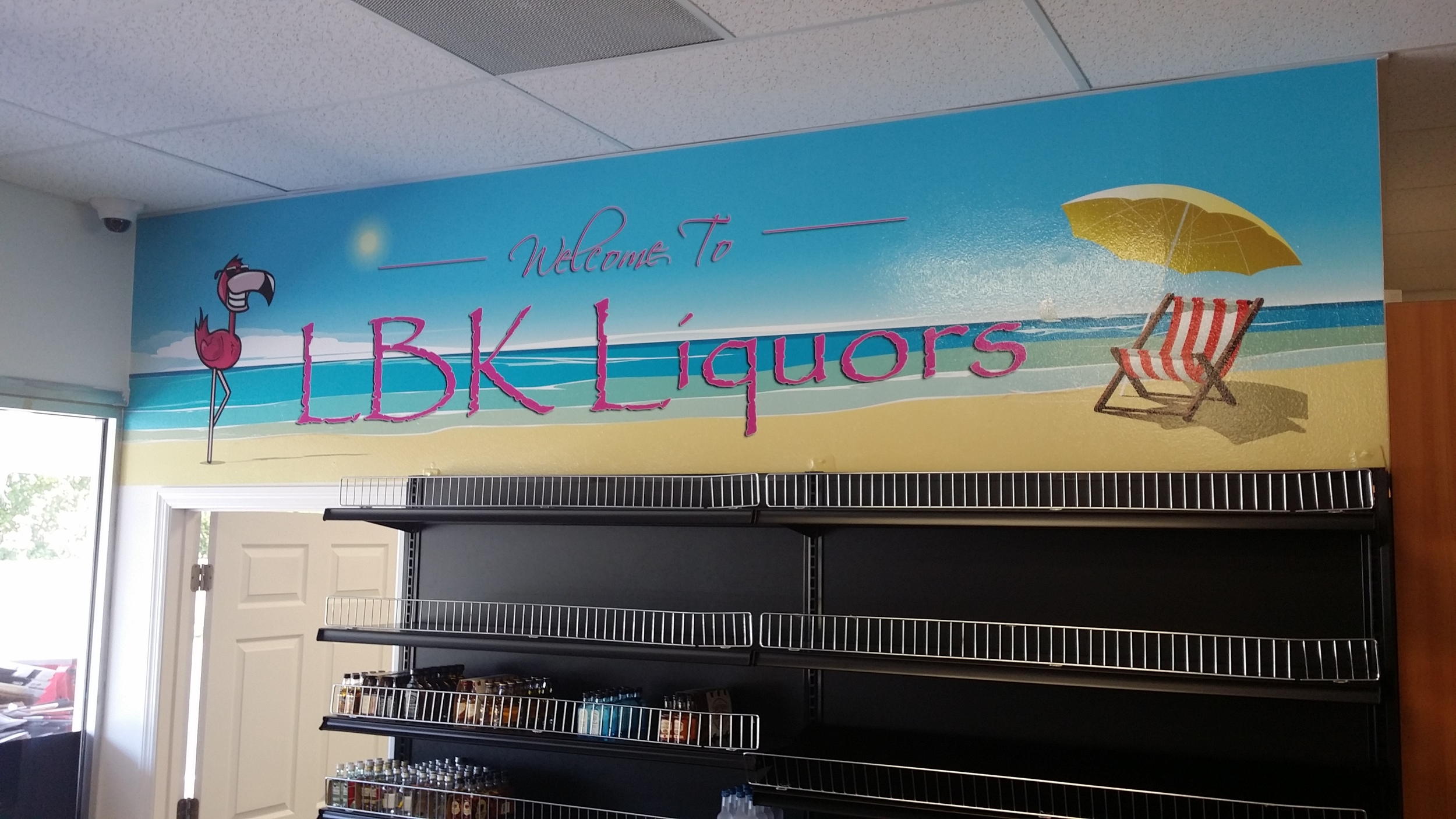 Digitally Printed Vinyl Graphic
Digitally printed vinyl can be applied directly to the wall, shown here as a header over the check out desk.
Acrylic Panel with Standoffs
This is a clear acrylic panel with a frosted glass logo accent topped with navy vinyl. Brushed metal hardware make the panel stand off from the wall - adding an additional layer of dimension.
Wall Wrap
Digitally printed graphic with UV and scratch protective laminate applied directly to the wall. Can be interior or exterior.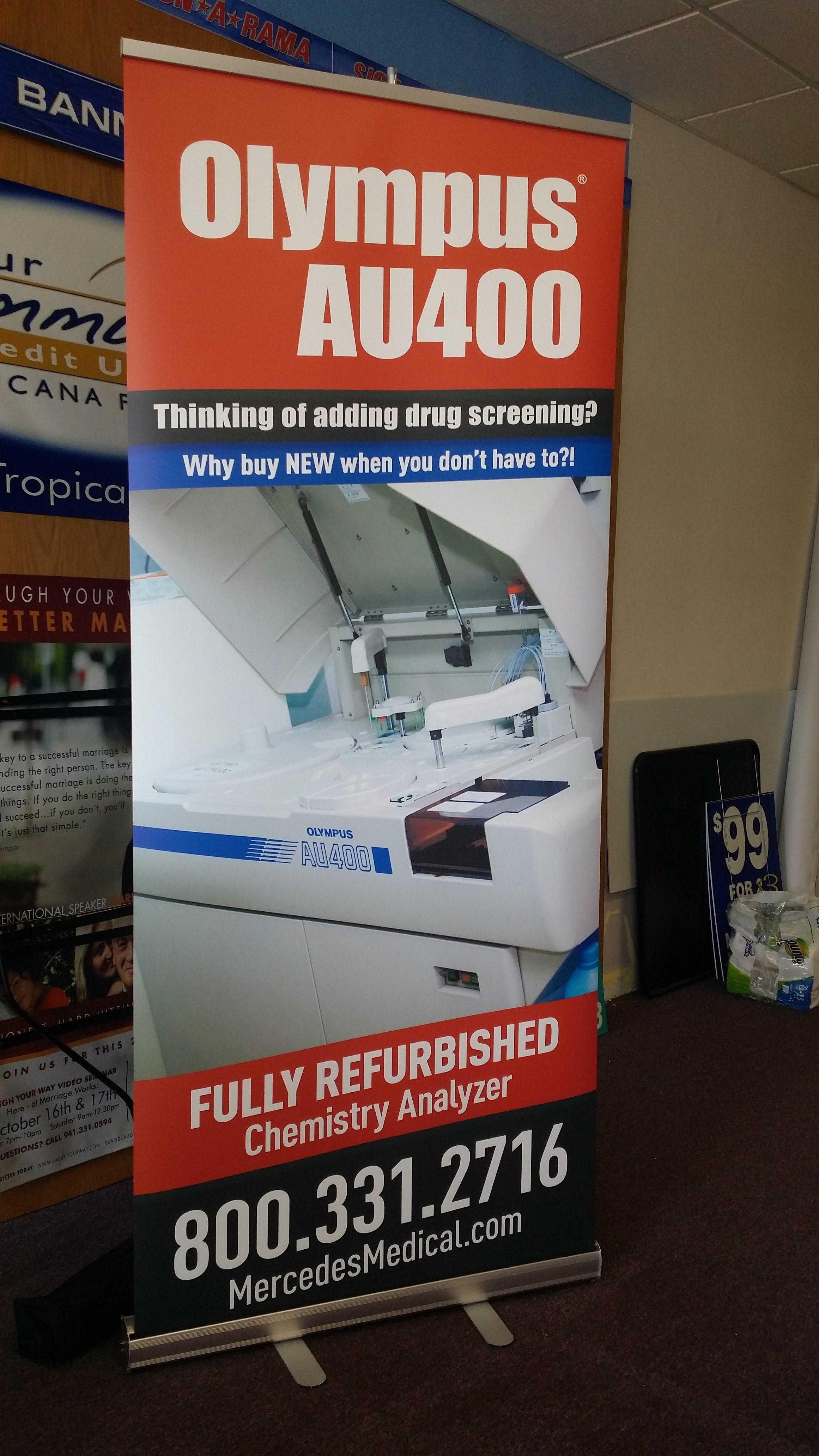 Retractable Banner - Economy
Floor Mat
Floor mats can be used inside or out. Full color images can be used as well as basic graphics as shown here.
Posters
Acrylic with Raised Lettering and Standoffs
Acrylic with Vinyl Graphics and Standoffs
Wayfinding Sign
Dimensional Foam Lettering with Brushed Metal Laminate
Wayfinding Directory
Wayfinding Directory
Counter Wrap
Retractable Banner
Dimensional Lettering / Logo
Menu Board
This menu board is a digital print designed to look like a framed chalk board.